Discussion Starter
•
#1
•
OK here it is, the V-Twin Forums 2016 3rd Annual Ride Of The Year.
For 2016 we have 9 V-Twin Forums ride of the month winners. That leaves the 10 and last poll slot open. But we have one poser who won an unofficial event, as well as putting up the good fight in a second event. So by the power vested in me, by me, I fill the 10th poll slot with cwilks and his 94 FLHTC.
So with out further intervention from me, I give you the 10 candidates for the V-Twin Forums 2016 3rd Annual Ride Of The Year. Take a hard look and vote for the one you think should be the V-Twin Forums 2016 3rd Annual Ride Of The Year.
----------------------------------------------------------------
refg3880
i'll give her a whirl
1992 FXLR low rider custom
127 cubic inch
126 hp 142 tq
hsr 48
bassani road rage II
custom metal work to fill taillight hole
all led lighting
brake/running light in plate frame
badlander
avon grips
just an old beater.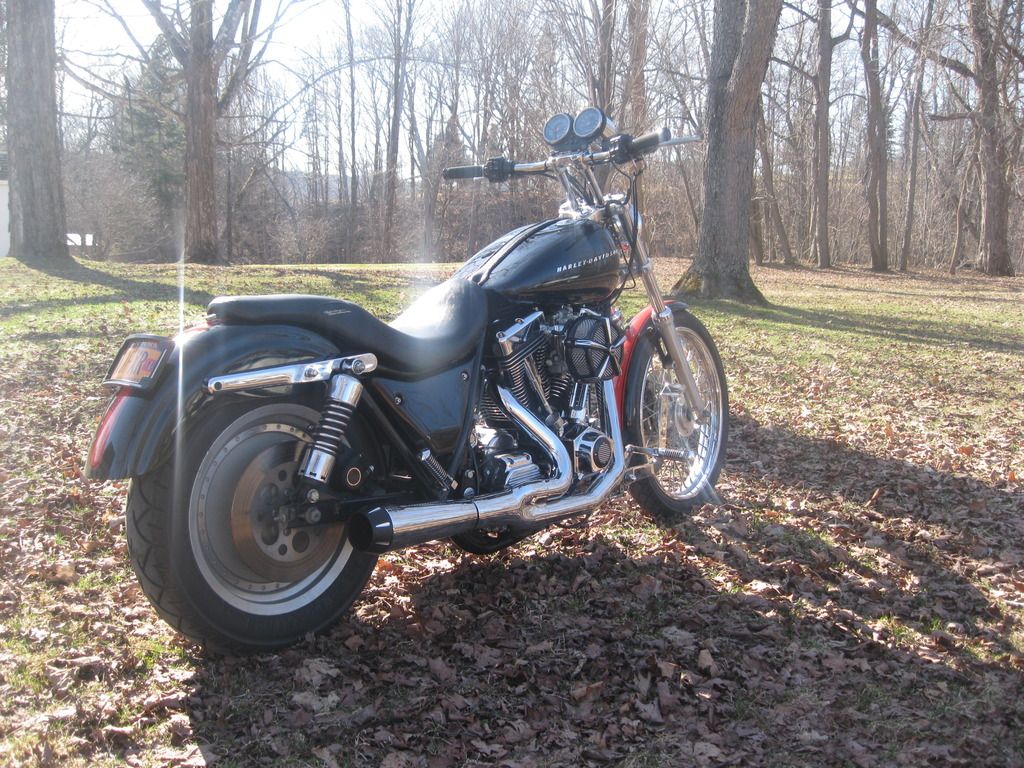 ----------------------------------------------------------------
EODHOG
Year: 2013
Model: Road Glide Custom
Eng size: 103ci
Transmission(5sp, 6sp etc): 6 Speed
Pipes: V&H Monster Rounds
Seat: Stock
Wheels: Stock
Accessories: SE Stage 1 Download, Progressive 944 Ultra Touring Shocks, SE Heavy Breather A/C, Avon Grips, "5 Alarm" Harley Paint Shop 25 of 200 Tin Set, HD CVO Extended Bags, Klock Werks Windshield, Progressive Rear Shocks, SE Race Tuner Pro, Cat delete head pipe (Shhhhh LOL)
And the story: I had a sweet deal made for a new Vivid Black 2015 Road Glide locally when I saw this RGC at the HD dealer in Missoula MT. After looking and talking with the guys in Zootown I was ready to head to Missoula to pick up my "new to me bike". Here's why.
My local dealer called back saying they would give me ANOTHER grand for my 2005 Peace Officer Edition Ultra Classic. That brought the Great Falls bike down to about $19,500 with the other wrangling that we did.
The Missoula bike came down to about $20,350 with a bit of haggling. With all of the options (listed as is in "Accessories" (except for the Heavy Breather and Cat delete) it added up to nearly $25,000 (the paint set was $3,800!) so I called Zootown back and they offered another $500 for my trade.
So what would YOU do?
I was already loaded up in the trailer so I headed to Missoula. The flames looked pretty bitchin! The rest is history.
----------------------------------------------------------------
FXR2
OK. Here's my FXR2:
1999 HD FXR2
Engine: 80" Evo.
Trans: stock 5 speed
Pipes: Supertrapp Supermeg
Seat: Corbin Gunfighter
Wheels: stock disc rear, re-created the 21" front with polished stainless spokes, had the stock billet hub chromed. Kept the stock chrome rim.
Accessories: Screamin' Eagle heads, ignition module, lifters. PM calipers front and rear, Andrews EV27 cam, HD visor fairing, Rifle chin spoiler, custom CVO-inspired side covers. They match the ghost-type tank graphics in visual effect. Ness Big Sucker intake. Various other minor bling.
I'm the second owner. Have had it for 13 years. Grew up loving Brit bikes so when I decided to go Harley, I wanted one that would handle. Read two books on Harley's and started searching for a FXR. Had pretty much given up so I went to a Indy shop to look at a used Dyna--and there it was. Had been there on consignment for two days and hadn't even been advertised yet. It was stock then but for SE slip-ons. Rolled it out and started it up....sold. I had not even heard of the CVO branch of HD until I got this. Started the mods with the theme of Screamin' Eagle performance parts, in keeping with what the CVO became right after these bikes were introduced.
I still end every ride thinking what a sweet running, sweet riding bike I've got. I didn't know when I bought it that A: I'd still be thrilled with it after 13 years, and B: that I was buying a ticket to the cult of FXR owners, some of which have gone from forum mates to riding buddies.
----------------------------------------------------------------
WideOne
Since I didn't win w/ the Pan, I'll try the Softail Slim-S
Year:2016
Model:Softail Slim-S
Eng size:Screamin' eagle 110"
Transmission: 6 speed
Pipes:RSD (Vance and Vines/ Roland Sands)
Seat: Stock
Wheels:Wire
Accessories:Bobber air cleaner, dished timer cover, brown leather side pouch,
And the story: I never had a brand new HD out of the 10 I've owned. This one grabbed me w/ the paint scheme and the extra torque with the 110CI engine. Coincidentally after putting it on the dyno, I come to find out its putting out 110 ft.lbs. of torque at the rear wheel. I'm enjoying the hell outta this one. It's also the bike which I put the least amount of trinkets on after I purchased it. Signed, Phil DePages
----------------------------------------------------------------
refg3880
therm wanted the FXR so here is the other one
1987 FXR-C
80 inch bone stock
tranny stock
carb stock
pipes stock
mufflers stock
seat stock
stock
stock
stock
she is mostly org bike need to find the right bars for her. numbered 135 of 750. im on the road working and will replace this 6 month old pic with new one this weekend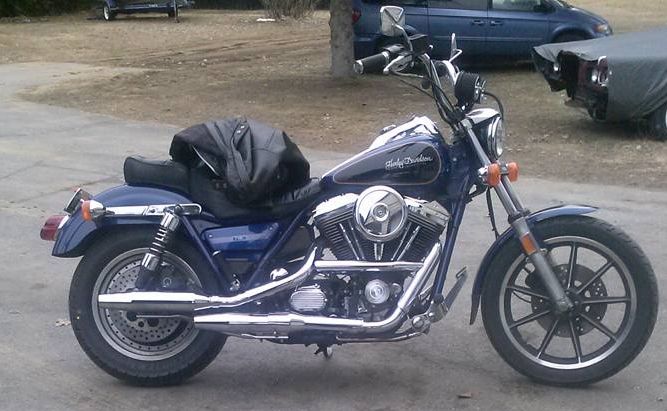 ----------------------------------------------------------------
Autoworker
2007
FXD
114 in.
HD 6 spd.
Cycle Shack PHD-232 T
Stock seat
HD Typhoon Wheels
This bike started out as a Bare Bones FXD.The cheapest Big Twin HD offers.
Items that were also added/upgraded besides what has been previously listed are as follows:
Arlen Ness Fairing
Alloy Art Tach Housing with a HD Tach.
Flanders Flat Track Handlebars
Chrome Engine Kit
HD Oil Cooler
Barnett Scorpion Clutch
Evo Industries 49 Tooth Clutch Basket Gear
Reverse Taper Air Filter with a Arlen Ness Scalloped Cover
The engine was built using new Screamin Eagle Cases with a mix of new,used and reworked parts.
Screamin Eagle Race Tuner
HP Inc. 55mm Throttle Body
Flywheel is a reworked stock assembly that had been trued,welded,balanced,with H-Beam rods
Andrews 67 Gear Drive Cams
HD Bigger Bore 113 in.Cylinders bored .010 in.over with HD 11:1 Pistons
The heads are 110 heads that were ported and cc'd by Bean at Big Boyz.
Tuned by Bean at Big Boyz.
It was also put on a Dyno at Paradise Performance and tuned with and without baffles.(Experimenting)
It makes roughly 125hp.with baffles and over 130hp.without baffles on a DynoJet Dyno.
The head badges (created by NoCents) are the result of a statement that my former galfriend said when she first saw the bike after I brought it home and noticed the solo seat.She said "What are you going to do with that thing". Needless to say the name stuck.
Hope you like it.
----------------------------------------------------------------
Road King Cole
Year: 2001
Model: FLHR Carb
Eng size: 95"
Transmission(5sp, 6sp etc): 5sp
Pipes: Supermeggs, open end cap.
Seat: Corbin
Wheels: Stock
And the story:
Bought this used with 500 miles on it from a guy in Ohio who just likes to buy a new bike every year. Except from a couple broken belts and cables, it has been very dependable and a great bike. I had headwork done, andrews 26 gear cam and wisco pistons installed. It seems to get up and go good enough for me. After 3 bar changes I finally was comfortable with the 16" chubbies which were the same height that I had on my previous 1980 80 shovel.
rkc
----------------------------------------------------------------
BusyBloke
Year: 2006
Model: FXSTi
Eng size: 1450
Transmission: 5sp
Pipes: V&H Long Shots (Black
Seat: Custom made Solo
Wheels:Modified front (3.5 rim) / standard rear
The Story:
Simple really - Had a bad time in 2015 - Decided not to get sucked under and combined passions for bike building and Black Sabbath to get me back on track. Enjoyed every frustrating minute in the work shop..had to re-do a few times as things that seem a good idea in your head sometimes aren't...but you've gotta give these things a go.
Made a few schoolboy errors along the way...key learnings were...measure and plan twice and do/buy once. Take your time. Always get the right tools...don't bodge it, you can cost a lot and get some bad regrets...
As with all bike builds..you make new friends, and this was no exception...met some great people who applied their art and skills and others who just gave a hand when a hand was needed.
Currently (today) putting some drop in springs in the front end to lower it and level out the ride.
I always liked the Triumph tanks that had the cut ins and rubber inserts for your knees, so tried to replicate that with the tank and some metal cut-ins that we powder coated mat black and then had some Black Sabbath artwork put on in gloss black...Looks good when you see it but didn't work as well as I hoped...but, like I say...you gotta try new things.
A friend of mine in Glastonbury made the hands on the rear fender brackets from a photo I showed him of Dio's hands and had them cast in Bronze. I was going to powder coat them, but liked how they came out in raw bronze. Will probably get some brass levers on it next year to balance that out.
A lot of the touches are subtle and you won't even see them in these pics...like the Harley crest on the tool roll says Helly Devilson, and the lyrics to War Pigs are tooled around the saddlebag. But it's for me and for riding so I think it looks good for anyone taking the time to come up and have a chat and a look around. Hope you like it.
Summary of work:
Currently dropping front end 2"
Front End
——————
Rebuilt front wheel - new 21/3.5" rim and spokes
Cut down and widen front fender.
Spray job - Fender
leather mud flap with crucifix fixing
Braided brake cable
Stainless bleed nipple
New pads
Powder coated fork bottoms
Powder coated Yokes
Powder coated indicator shells
Chrome indicator bezels
New seals
Gators
Fat bob (Black) Headlight
Wide chrome bezel
Street Slammer bars
New grips
Reaper mirrors
Extended braided clutch cable
New levers.
Body
———-
Tank raise kit (1.5")
Fabricated tank
Spray job
Fabricated tank panels
Powder coated tank panels
Painting on tank panels
Custom leather tank bib / phone case
USB ports fitted
Black push rod sleeves
Zodiac oil tank
Spray job on oil tank
Stainless oil lines
stainless fittings
Custom lather coated and tooled coil cover
Pentagram points cover
Pentagram Derby cover
Engraved inspection cover
Arlen Ness forward control relocation kits
New footpegs
New Brake pedal
New shifter knob
Extended braided rear brake line
Long Shot Exhaust
Quiet baffles
Sprung solo seat - tooled leather
New shocks
Biltwell lowering studs - 2.5" lower
Cut off rear rails
New low profile rear fender
Paint job for fender
Made fender struts
Bronze fender mounts
side mounted rear light
New belt guard
Custom tooled leather tool roll
Custom tooled leather saddlebag
Relocated indicators (powder coated)
Modified axle cover
Relocated ECU under oil tank.
----------------------------------------------------------------
V-STRUM
Year: 1987
Model: Low Rider Sport FXRS-SP
Eng size: 80''
Transmission: 5 speed
Pipes: Cycle Shack
Seat: stock
Wheels: Rev Tech
And the story: I feel in love with this bike when it came out in '87, but money kept me from buying one. After 3 years of saving I found a very clean, used one in 1990 with 11K miles. It already had some motor work done: EV27 cam, SE carb & ignition, and SE Kerker pipes. I rode it a lot, commuting during the week, pleasure rides on the weekends, touring, I couldn't stay off it.
At the end of 2001, with 108K miles, I decided to freshen it up a little mechanically and visually. The motor was rebuilt, heads flowed, Wiesco pistons, and Mikuni HSR42 added. Black powder coat and chrome covers replaced the the stock bare aluminum motor which I never liked. The entire front end was replaced with FXDX fully adjustable forks, brake calipers, handlebars, and controls, along with Revtech wheels. The tins got new factory teal and black paint, which was a custom color in 2000.
Since 2006 I've owned multiple bikes so the FXR doesn't get ridden quite as much, but it's still my favorite. Other bikes, a wife, and girlfriends have come and gone, but the FXR remains, I love it just as much, if not more, than when I first got it.
Current mileage is 186K miles.
----------------------------------------------------------------
cwilks
Year:1994
Model:FLHTC
Eng size:120"
Transmission(5sp, 6sp etc):5 speed (there's more?)
Pipes:Cobra Duals w/ CVO Muffs
Seat:Corbin Dual Tour (THEE riders seat)
Wheels:17" 2013 Knuckle Wheel
Proof of miles (speedo photo):
Tunes
leeeeze (it's a rider NOT a concert hall)
Functional Accessories:yep
And the story: Bought this bike from a guy in Kneevada for $4500 a few months ago....
pulled the 50,000 mile motor out and replaced it with a 120" Ultima motor....did a few things
here and there to make it more rider friendly...it's a 10'er...looks way better in pics than it actually does...has plenty of "character"
----------------------------------------------------------------
So there ya have it. Ten fine scooters to choose from. So put the word out, and get some people over here to vote for the V-Twin Forums 2016 3rd Annual Ride Of The Year.