Discussion Starter
•
#1
•
Superior protection and better appearance.

Replace the stock Street 500/750 plastic radiator grill with our aluminum grill.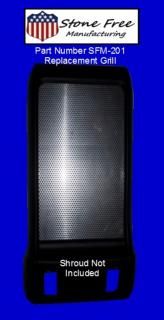 ​
In addressing after market parts for the new Harley-Davidson Street 500 and Street 750 we found that the stock plastic radiator grill had such large openings that damaging rocks could be thrown from the front tire into the radiator core. Potentially simply riding down the highway the front tire can kick up a stone large enough and with enough force to actually puncture the radiator core and there is little to stop this with the very large openings on the stock grill. Our solution was simple. Provide a replacement grill made out of perforated aluminum with much smaller holes. Our grill replacement has .125" diameter holes and with 40% flow-through provides more than adequate air for cooling purposes. We did extensive road testing using this grill and found that the water and engine temperatures were unaffected by any riding conditions.
The grill is provided as unfinished aluminum offering the owner the option of either painting the grill or spend the time to polish it to a bright aluminum finish. Or simply do as we did and install it as is as the bare aluminum finish is also very attractive. All attachment holes have metal grommets installed on the grill providing a far superior product over other after market grills. The grill shroud is not included but the replacement of the stock grill with the Stone Free Mfg grill is relatively simply and straight forward to accomplish. Complete easy to follow instructions as well as all necessary hardware is provided in the replacement grill kit.
After we installed this grill on our Street 750 we also found that the amount of mud and muck that ended up on the radiator core was dramatically reduced. While this doesn't damage the core it does, over time, reduce the cooling ability of the radiator. To properly clean the radiator does require removal of the shroud/grill (easily done by removing two bolts) regardless of whether the person has the stock grill or our replacement grill but by reducing the build-up this task is required less often using our replacement grill.
The appearance of your Street 500/750 is also enhanced as is shown by this photography of one of our customer's Harley-Davidson Street 750.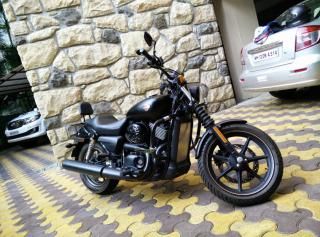 ​
Visit our website for pricing information as well as the other products we're offering for the Street 500/750.
www.stonefree.us
Special Offer: Free shipping for V-Twin forum members that contact me directly.
[email protected]
​