Rachel NV, population 98 according to the web site:
www.rachel-nevada.com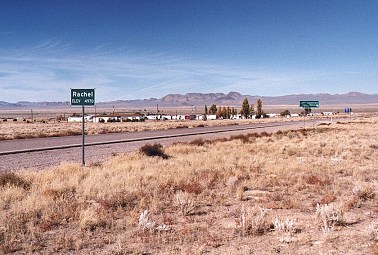 Welcome to the official web site of RACHEL, Nevada
Located on the world's only Extraterrestrial Highway
Population: Humans 98, Aliens ??
Note: The gas station in Rachel is closed. The nearest gas stations are 50 miles south in Ash Springs and 110 miles north in Tonopah.
Rachel attracts a lot of hard-core touring riders, because it's miles of open highway, ample places to pull over and camp. Not much [any] traffic.
MAPS on iPod gives three routes. I'm planning Madras, Bend, Prineville, Burns, Denio, Winnemucca. (This I've done last summer.)
Battle Mountain, 305, 376 to Tonopah, 6 to Rachel.
The "attraction" is open road, dry, warm. I'm not into riding in metro areas. We don't do motels. I like to camp.
No set date (retired). Weather would be the determining departure criteria.
iPod Maps is telling me about 971 miles, 18 hrs.
Anyone have experience riding in rural Nevada?