Discussion Starter
·
#1
·
Here it is, a down and dirty little run off event to fill the vacant runner up spot in the end of year events.
Short and sweet, three scooter to choose from and 5 days to do it.
------------------------------------------------------------------
pb68slab
OK , let the good luck roll!
My 1997 FLHPi , ex-Police Roadking.
Bought on Ebay a few years back. Didn't look so good at the time. Motor is basically stock 80 cu.in. Evo , except for;
Andrews EV-27 cam
V&H Big Shot Tru-Duals w/fishtails
Dyno-jetted Keihin CV-40 replacing the stock M-M FI
Dyna 2000i ignition
HD Badlander solo seat (have P-pad)
braided brake lines
fresh sneakers , black powder-coated wheels and floating rotors are waiting to be installed
I did some remodeling to add docking brackets so I could use Tour-Pak , rack , passenger backrest , whatever.
----------------------------------------------------------------
Greg E
Screw it, I feel like I haven't had enough losing lately, might as well try this one last time. And if no one else enters, I'm automatically forwarded for whatever that other part was. And yes it is the same entry from last year, haven't done anything else to it.
Year:2003
Model: Buell XB9R
Eng size:1050cc
Transmission(5sp, 6sp etc):5sp
Pipes:stock
Seat:stock
Wheels:stock
Accessories:
Where to start... White mirrors, dark tall windscreen, removed raised lettering and hand cut black reflective vinyl letters, same black vinyl around the headlights. Rebuilt top end to 1050cc bolt on big bore, XB12 throttle body, tuned with ECM Spy. White DEI exhaust wrap to accent the monochrome color scheme. Bullet LED turn signals with LED signal relay for proper blink rate. Replaced stock garbage headlights with custom self designed Hella Bi-Halogen projectors, wiring all done in fuse and relay boxes to look stock. Complete build thread on the light upgrade, half a thread on the 1050cc upgrade (got rushed with riding season and stopped documenting to finish the work).
Yes it is very quick and effortless to ride.
[edit] build thread on the lights
Part 1
http://www.badweatherbikers.com/buel...tml?1288537561
Part 2
http://www.badweatherbikers.com/buel...77/592520.html
The end
http://www.badweatherbikers.com/buel...tml?1325177911
Story: Not much, it was owned by a hamfisted goon which caused me to do a bunch of work to make it run right. Work is done so now I mostly just ride it. Doesn't have a name.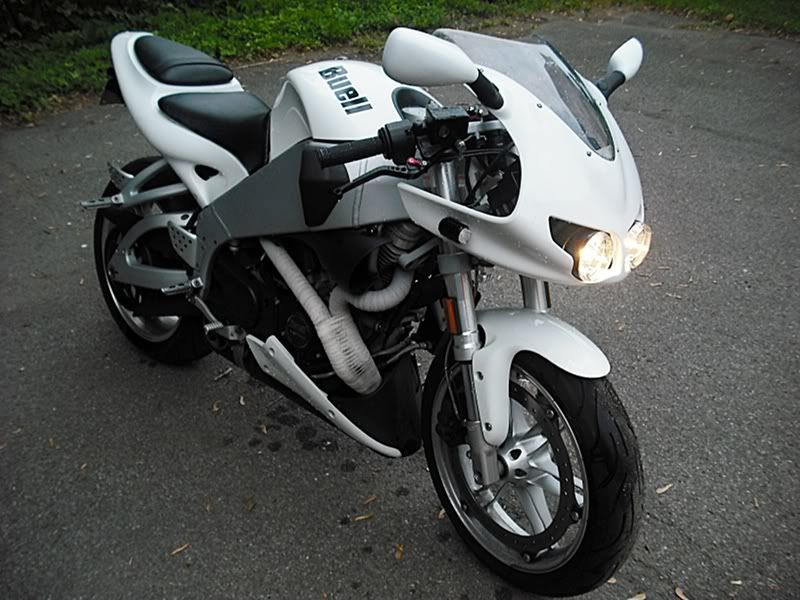 ----------------------------------------------------------------
aldean
Is it too late to enter?
Year:1999
Model:Road King
Eng size: 124"
Transmission(5sp, 6sp etc): Baker 6 speed
Pipes: D&D Fat Cat
Seat: Bitchin Seat Company
Wheels: RC Components Czar 21 and 16
I've had this bike since 2005. It now has 117,000 miles on it. I had a great paint job on it but then a shop dented my tank and nobody Could match the paint so I got it repainted. The new paint looked like crap and took over a year. Needless to say I got a major part of my money back and had it repainted again. 3rd times a charm! The paint is Kandy tangerine over silver flake base and champagne. The seat is Buffalo hide with Mercedes Leather. I'm happy to have my bike back again...
Before the new paint, I had a custom ordered S&S 124" installed. It's putting out 146HP and 142 TQ. It's a blast to ride now!!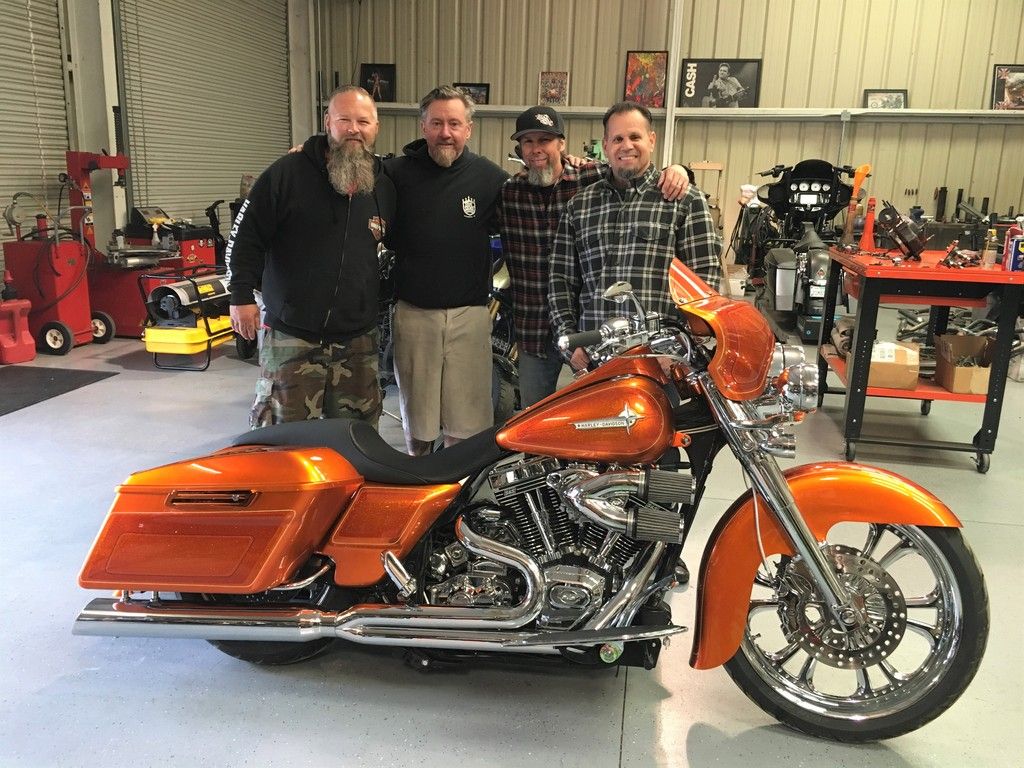 ----------------------------------------------------------------
There you have it, nuff said. Time to get to voting.