Discussion Starter
·
#1
·
So it's Sunday, and my wife took the boys to see Ice Age 2. I get on the bike and go for a ride. Up PCH, to Malibu Canyon, over to Mulholland Drive, and then to the Rock Store. It's a a typical day at the Rock Store, wall to wall bikes, old ones, new ones, Japanese bikes, German Bikes, Italian Bikes, and home made bikes. During my visits there I have seen Jay, Arnold, Sylvester, Peter, and all the other celebs you see making news in the tabloids. I have seen accidents, fall downs, and CHiPs writing tickets. I have seen muscle cars, collector cars, and exotic cars. I've even seen Jays jet powered car and motorcycle.
Today I saw a street legal Formula 1 race car pull up. Here it is.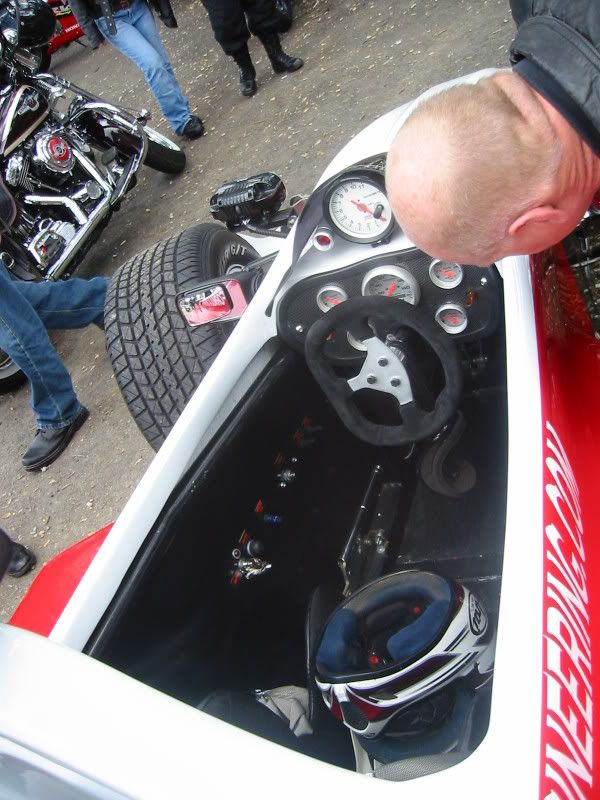 The driver pulled up wearing a full face helmet. I started laughing when I saw this. After he parked and climbed out, the crowd started gathering and asking questions. I said to the driver, "Hey buddy, did you get lost during the Long Beach Gran Prix or what"? Then I asked him, "Where does the kids car seat go, how big is the trunk, can I fit my golf clubs in it"?, followed by "What do you say to the valet guy at the restaurant"? "I should have asked him how well it does with parking lot speed bumps. He said it was "street legal", and that it got 14mpgs. He also said it made 450hp, which was a lot considering the thing weighs only 1,400lbs. You too could own one for just $95,000. I just shook my head and walked away.
Later I rode over to Neptunes Net out on the LA/Ventura border for some seafood. Wouldn't you know it, he showed up there as well.
Another day in LA!