Discussion Starter
•
#1
•
Finished with the install to the LED Trucklights that my Indy Dealer, Calif Phil, sent me, both the driving lights and the Headlight.
WOW and DOUBLE WOW.... the difference is like the difference between night and day. I can't believe I waited so long to do this changeover.
Right after I bought this 04 Ultra last year, I changed out the stock headlamp and driving lights to H-D's Halogen versions. In making that change, I had to go with a new headlight dish and an adaptor between the driving lights that converted each of them from spade type connectors to a plug type. Because I had already done that, I did not need to buy a new headlamp dish or new driving light adaptors for this project. 05 and later Harleys come with the newer stuff as stock.
Here is what the H-D Halogen headlight and driving lights look like in the daylight: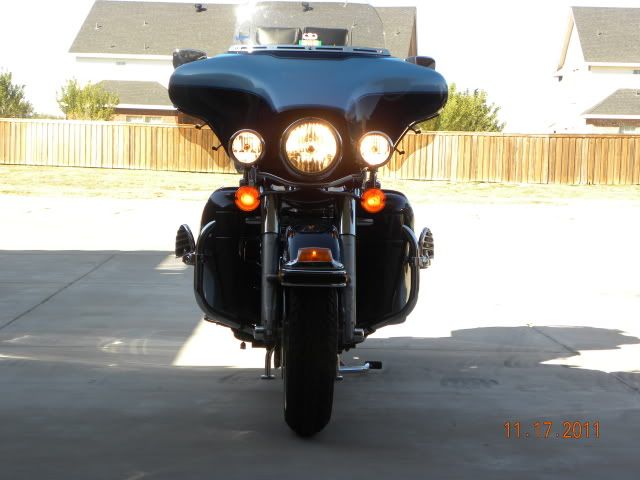 Installation of the Trucklite LED driving lights was pretty much plug and play. I had already been warned that the stock trim rings would have to be snugged down tight, I did and everything fits fine.
Here is one LED driving light installed, notice the immediate difference between it and the H-D Halogen on the right of the picture: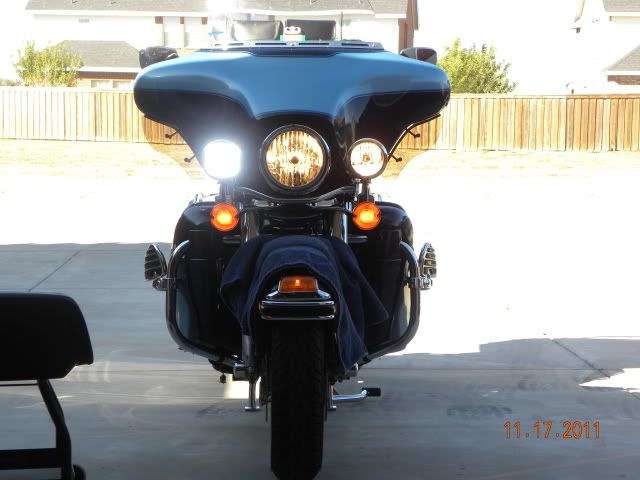 Here's the difference with both LED driving lights installed, notice the difference between them and the H-D Halogen headlight :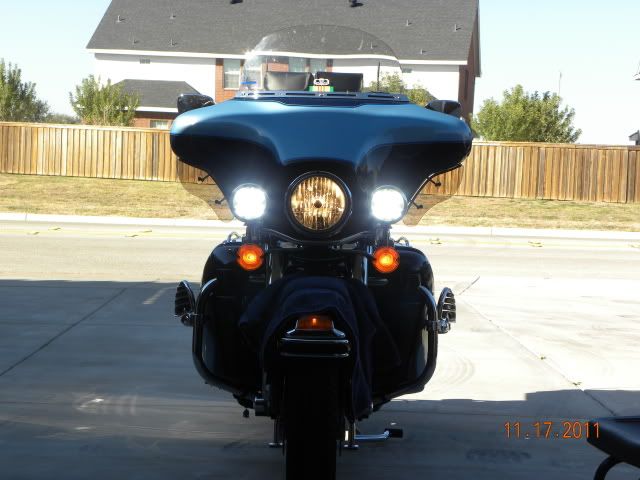 Here's both LED driving lights and the Trucklite LED headlight on low beam. The lower portion of the headlight lights up when the hi beam is activated: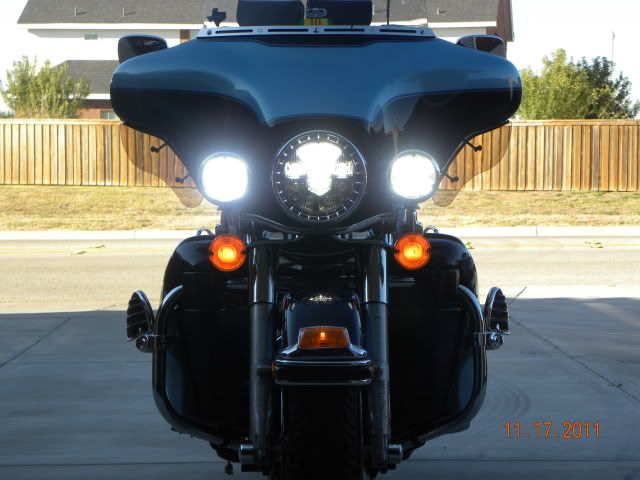 I think the whole LED setup provides much more light, and looks good on the Ultra also: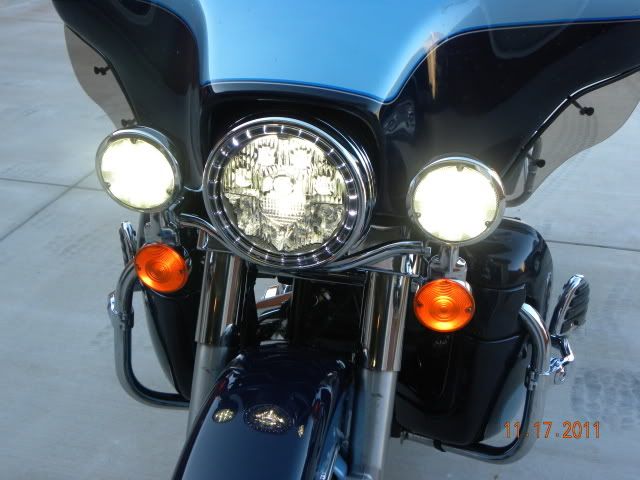 Since the Trucklite LED headlamp sticks our about 2 inches further than the H-D halogen headlamp, the Kuryakyn lighted trim ring is a nice addition to fill in that space. Functional and a bit fancy with the small LED lights all around the inner ring:
I didn't use any additional trim rings on the driving lights, they fit flush and work well with the stock H-D trim rings:
The setup looks kinda like the Starship Enterprise with the lights off, but as long as the LED's provide this kind of lighting, I don't mind at all:
Being LED, they will use less power than the H-D Halogen lights I had before.
Due to age and detoriating night vision, my riding is 99% daylight and that is what I wanted these LED lights for..... I want to look like a 747 coming in for a landing, and hope the cell phone, texting, idiot drivers notice !