Sorry I'm late (again), I've been in transit to Argentina and it took longer than I expected. OK, enough about me, another great turnout this month so let's get it started...
95sftHeritage
79 cx 500 bobber..
buddy of mine set this up .. was originally built by him for him..but he moved on to bigger things.. just fun to drive...
this one is a keeper.. Gonna pass this one over to my son on his 16 birthday....
beats those bloody playstaions and xboxs.....!!!!
TimNY
Mid Life Crises Bike/ Home built 2011 Custom Chopper
2011 Custom. Pics of build in my profile.
Daytec 250 Softail frame , 10 inch over wide glide , S&S 96", Baker 6 speed , V&H Big Radious exhaust. American Wire Wheel 80 spoke rims , Avon tires . Works shocks , PM callipers , Primo pro clutch . Davies Art paint.
(NOTE: My apologies to TimNY, this picture is not displaying properly. Please see the picture in the ROTM Entry thread)
n.e.confederate
OK, here's mine. '02 Road King, 95", 9.7:1, ported heads, S&S 510 cams, PCIII, and a few other mods, home built. This winter will see 10.6:1, 585 cams and S&S VFI closed loop fool infection, all done in my basement shop. Custom paint is the result of a crash last summer. Up til then I did all work on this bike myself but had my local hot rod shop patch it back up while I was being patched up. That crash damaged every piece of sheet metal or fiberglass except the rear fender and the right side cover! I found the air brush guy, I designed the paint scheme but had the local body shop repair the dents, scrapes, etc, shoot the color and clear, while another local guy did the airbrushed flames. I put half moon shaker boards on it, Pan tank emblems and round mirrors to give it a "Pan flavor". This bike has over 75,000 miles on it, I ride the wheels off it! What do y'all think??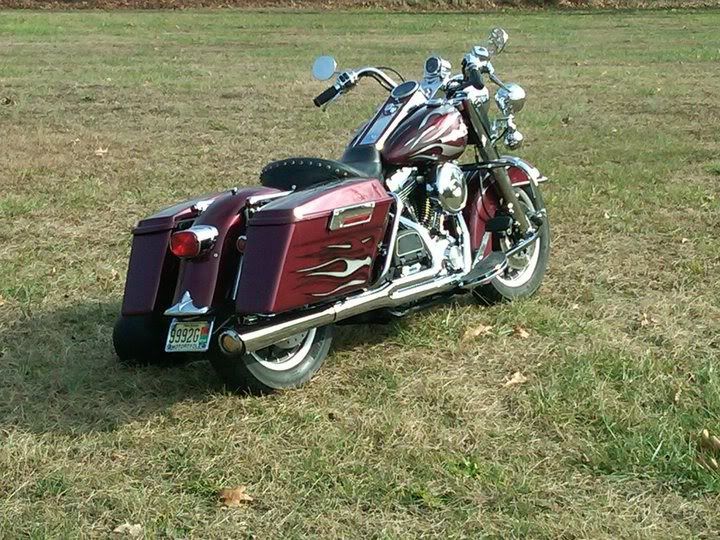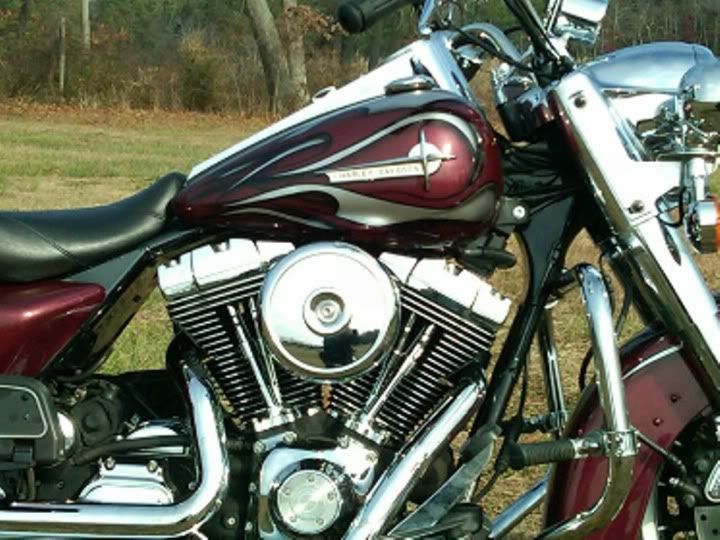 Sadist
The Bike:
2000 Softail 'Fatboy' with hard bag mounts and rear LED taillight by Cycle Visions.
95" Kit, J&E Forged Pistons, R&R Stage IV heads, milled to 11:1, Comp-Release buttons, Andrews 60 gear driven Camshafts, Feuling billet cam plate and oil pump, T-P Performance Billet Rocker Boxes, S&S Roller Rockers, Baker Fire Starter Starter with Coarse Starting Gears, 6 speed gearbox, true dual exhaust, Crane lifters and Dyna Ignition...
The Story:
Previous owner gets between a girl and an abusive boyfriend, finding himself on the wrong end of a knife.. The assailant managed to cut the one of the previous owners major arteries, near killing him. Long story a little shorter.. the owner came out okay, but due to blood-loss he lost some of his vision and some of the use of one of his hands / arms.. He continued to ride.. but crashed several times.. His Indy repaired the machine as asked but did so reluctantly, fearing he would one day lose his friend to an accident.
He again crashed, and this time took the advise of his Indy and hung it up.. He brought the title.. The Indy placed an ad on Craigslist, without picture, just a brief description.. and a low price, not wanting to profit due to his friends misfortune.. I called him within an hour of the ad hitting.. and knew this was a bike i'd need to see..
There was damage to the primary cover, clutch basket, pressure plate, saddle bag, floorboard, fender and some other dings and scratches.. There was no negotiating.. it was what it was..
I did the bodywork, sprayed the base and clear.. and repaired the mechanicals.. but heard a noise.. and found the inner cam chain shoe to be broken, and replaced the chains in favor for a gearset, but kept the same grind, added the feuling cam plate, oil pump, TP rocker boxes, roller rockers and lifters.. Most all the parts other than the cam stuff i found used, either on this forum or ebay to keep the costs down..
When i started the wrenching, i was impressed with the attention to detail the and quality of workmanship i found throughout the machine.. and called the Indy and told him so..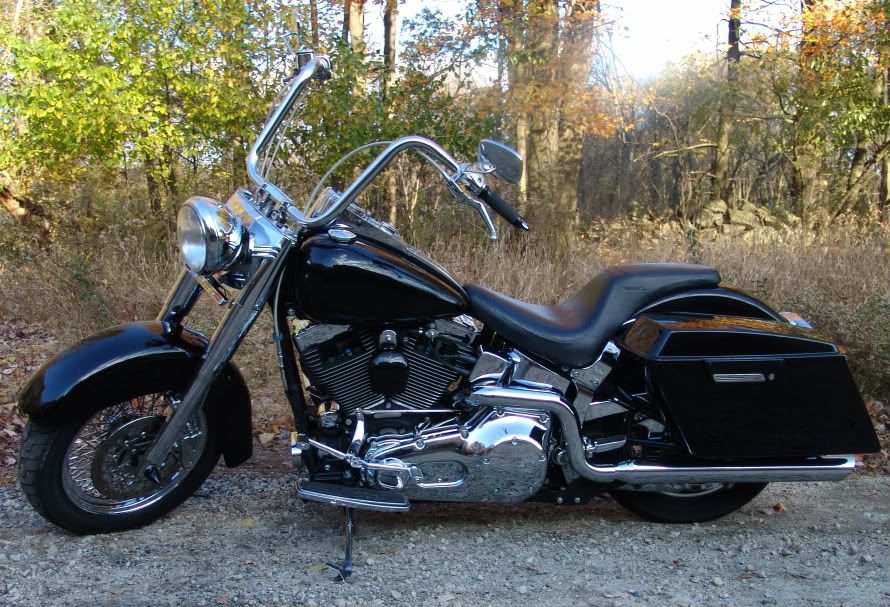 Hot Sauce
I am pretty much new to this site, why not post some picks too. Here is my 2011 Custom Chopper I built myself. What is included…Ultima El Bruto 113" with driveline package, 6 Speed, 2" primary. Krafttech Rigid Frame: 34 Rake, Up Stretch is: 0", Back Bone Stretch 2". 250 Dunlop Rear, 21" Front wheel. I installed baffles in my LAF pipes. I had to cut the ends to install them, hence why I have the tips. Still loud, but you can still ride without earplugs. Comes with Turn signals, Speedo, Indicator lights, Horn, High Beam and Hazards. It took me 2 years to finish. I spent about 2 month's total time working on her of those 2 years. I have a family and having extra time is hard to come by. When I finally finished the bike, added fuel, rolled her out of the garage and started her; the look on their faces was priceless. Made it all worth it.
toejoe
Toejoes 1999 Wideglide is never done ....
1st pic was in Texas 2nd pic in Texas 3rd pic was in Texas after coma (not see X-mas or New Years) 4th pic is in works in Indiana will post when done .... *year:1999 *model:FXDWG *Eng size:96ci *trans:stock 5 speed *seat:Badlander *wheels:sportster -rear RC-front *accessories:Hi-Torque Pork 96 kit-Pearl white paint-Dyna Ign-Mikuni 42-Cone Breather-Tbars .. Story is I bought the bike in TX add some acces.(pic 1) Doing 70(the speed limit)mph when A## pulled out in front of me 1 yr later (2ndpic). I was in a coma for a mth and it took a year n half to ride again and fix bike (3rd pic). I moved to Indiana year later for back surgery Oct. 31st 2011 yes Halloween. I was just released from doctors but workin on bike... 16 in front wheel more motor work (AMM) hard bags .. well I will post pic in Feb. thanks for your vote .. life is good so keep it in the wind
claydbal
Upb
the old used parts bike had to go when i got sick and divorced, met new chic and she bought me a 96 flh with a scattered motor and cosmetic damage.
a couple friends (randy torgeson and another) hooked me up with parts to do the motor.
heres a pic fo when i got it out of the truck.
total allowed budget, including purchase price is $3500. still easily within that and it runs now!
thanks randy
OK, there we have it for Dec. 2011. Thanks to all who entered because this is your contest.
I would also like to welcome claydbal back after an extended absence...we missed ya, Dennis!