Discussion Starter
·
#1
·
Quit riding back in 1990, been wanting another bike for a while now. Then $70 fillups in my daily driver pickup pushed me over the edge, at least that's the excuse I'm going to use.
The first bike/scooter I ever rode was a friends Sears Allstate "Compact" scooter. That sparked the fire that has never gone out. My own first bike was an SL 350 Honda road and trail model. Spent a lot of time trail riding and found it was not suited for that. Next came a 360MX Yamaha, wheeeee doggieeees, real fast trail riding. During that time I put together a basket case 73 Sportster with parts from a stock bike someone took the engine out of to build a trike and got an engine from a salvage yard and away I went!!! I rode that thing into the ground, and loved every minute of it. After wearing it out I traded it for an equally worn out 67 FLH police bike, here I go again. Rebuilt it basically stock but with a narrow glide front end, I've never cared for the fat front tire look anyway. Wore out the stock rebuild, twice, then decided it was time for a stroker!!! Turned it into an 88 incher!!! What a blast! Blew it up, it couldn't handle me, a large breasted female, and low octane gas, under full throttle. Rebuilt it and had it running great, then one day at the dealers showroom there sat the best looking maroon and silver softail you ever saw, one of the first ones out and with the evo motor. That was in 1984, rode that bike till 1990 when I lost serveral of my riding buddies, cancer, alcohol, and physical disabilities took my buddies and left me riding alone most of the time. So I sold the Softail and bought a Corvette, been playing with my other hobby, automobiles, ever since.
Now I've come full circle, time to put the wind in my hair again!!! Still have my passion for hot rod Chevies and Harely Davidsons, and will till the end!!!
Here's some pictures of my favorite bikes/cars
The 67 "slab side" shovelhead
the slab side "stroker"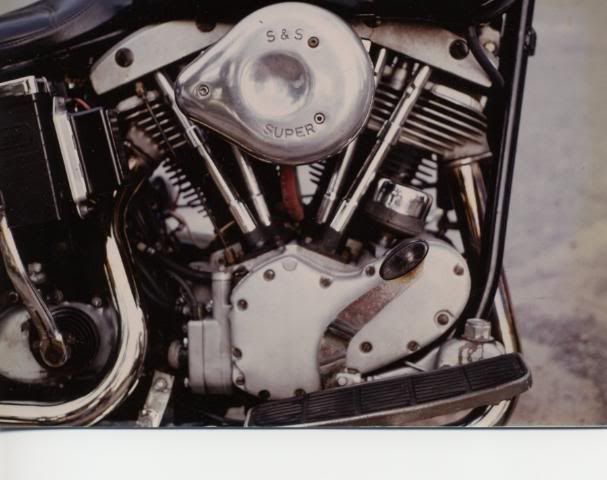 The FXST and me
the 06 VRSCD the day I bought it
My present hot rod El Camino