OK here it is, the poll for event 5.
From this poll there will be two scooters advanced to the next rounds. Winner to the ROTY and second place to the run off event.
Then there is the vacant run off slot from last month that needs to be filled. I have decided to run a second poll after this one closes. All the 3rd place down scooters from event 5 will be entered. It'll be a fast little run off, about a week. And it will insure that the best scooter moves forward by allowing members to vote it in, even though they spent their vote on the event 5 poll. And it will give the folks entered a chance to make their case, or run their mouths, as to why their scooter should advance.
So here it is, time to choose the 2017 V-Twin Forum Ride of the Month - Event #5 winner and runner up.
----------------------------------------------------------------
pb68slab
OK , let the good luck roll!
My 1997 FLHPi , ex-Police Roadking.
Bought on Ebay a few years back. Didn't look so good at the time. Motor is basically stock 80 cu.in. Evo , except for;
Andrews EV-27 cam
V&H Big Shot Tru-Duals w/fishtails
Dyno-jetted Keihin CV-40 replacing the stock M-M FI
Dyna 2000i ignition
HD Badlander solo seat (have P-pad)
braided brake lines
fresh sneakers , black powder-coated wheels and floating rotors are waiting to be installed
I did some remodeling to add docking brackets so I could use Tour-Pak , rack , passenger backrest , whatever.
----------------------------------------------------------------
Settertude
Ah, what the heck. We will play.
Year: 2007
Model: FLHRC
Engine size: 96 with Andrews 57H cams, S&S lifters and Quickee rods (tuned by Twisted Cycles)
Tranny: 6 speed
Pipes: Samson true dual fishtails
Screaming Eagle AC
Seats: Mustang Wide Touring, Mustang Solo, HD Sundowner with adjustable driver backrest.
Trunk: HD leather covered with top rack
Bags: stock classic bags or Hard bags
Reckless Batwing with sound mat, 6x9 speakers, radio, USB and BT and 300 watts of power
Quick release docking hardware for backrest/rack or trunk
Wheels: stock classic spoked
Chromed front end and doodads here and there
Custom paint: Vivid Black/Rat Roadster Green (PPG custom)
Heritage Bars tipped with Avon grips
New model SE compensator
Heavy clutch spring
She is my first Harley. I purchased her two and a half years ago and she has treated me well.
She is all about 'dressing' for the occasion.
Fiona naked with Mustang Solo
----------------------------------------------------------------
Greg E
Screw it, I feel like I haven't had enough losing lately, might as well try this one last time. And if no one else enters, I'm automatically forwarded for whatever that other part was. And yes it is the same entry from last year, haven't done anything else to it.
Year:2003
Model: Buell XB9R
Eng size:1050cc
Transmission(5sp, 6sp etc):5sp
Pipes:stock
Seat:stock
Wheels:stock
Accessories:
Where to start... White mirrors, dark tall windscreen, removed raised lettering and hand cut black reflective vinyl letters, same black vinyl around the headlights. Rebuilt top end to 1050cc bolt on big bore, XB12 throttle body, tuned with ECM Spy. White DEI exhaust wrap to accent the monochrome color scheme. Bullet LED turn signals with LED signal relay for proper blink rate. Replaced stock garbage headlights with custom self designed Hella Bi-Halogen projectors, wiring all done in fuse and relay boxes to look stock. Complete build thread on the light upgrade, half a thread on the 1050cc upgrade (got rushed with riding season and stopped documenting to finish the work).
Yes it is very quick and effortless to ride.
[edit] build thread on the lights
Part 1
http://www.badweatherbikers.com/buel...tml?1288537561
Part 2
http://www.badweatherbikers.com/buel...77/592520.html
The end
http://www.badweatherbikers.com/buel...tml?1325177911
Story: Not much, it was owned by a hamfisted goon which caused me to do a bunch of work to make it run right. Work is done so now I mostly just ride it. Doesn't have a name.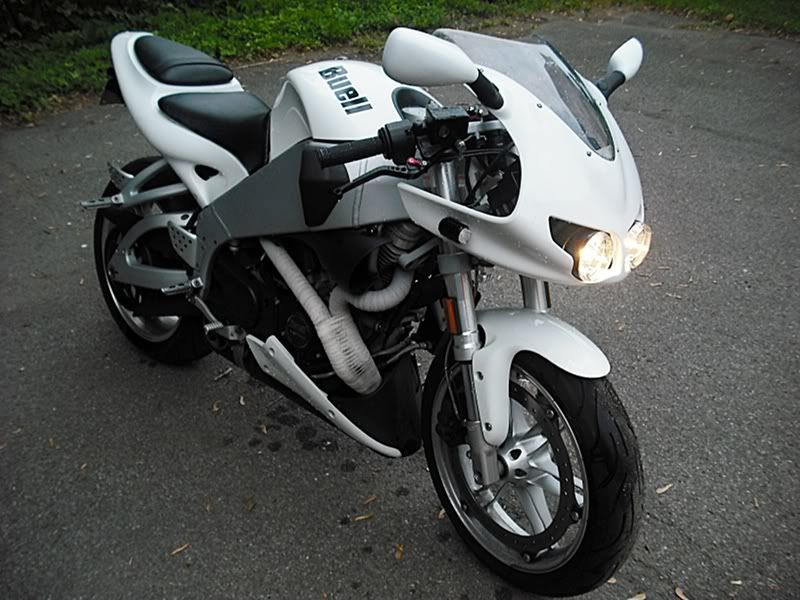 ----------------------------------------------------------------
1camenuf
Well,here I go hated by Th and Au but asking for Forgiveness and votes on my R ruh!
1993 FXLR lowered 2"
96" S&S crate engine with a G2 Zippers (Thunder Jet Pro)
Single fire ignition-Dyna 3 ohm coils
Brocks Swingarm (0-3" over)
GSXR Rear Caliper and Hanger
Brocks Drag Shocks (Ohlins)
GlidePro mounts
RevTech 5 speed Builders
17 x 4.50 rear wheel 160 X 60 Tire
19 x 2.5 Front 90-90
2" Under Fork Dampeners
Corbin Seat
Autometer Speedo
RB Racing Pro Stock 2" Pipe
I have been putting a new inverted frontend in the works, Brock Trees, ZX14 Forks, and Galfer 330mm Rotors coming together,
Been in family a long rime, ride a lot on weekends and occasional drive to and from Drags. Still have love for sportbikes, but this FXR I love. Been very good to me WERA, IDBA NHRA
----------------------------------------------------------------
autoworker
Year:1980
Model:FLT, Tour Glide
Eng size:80ci.+.030in.
Transmission(5sp, 6sp etc):Rebuilt Stock 5spd.
Pipes:Stock True Duals with opened up cans and a missing heat shield
Seat:Ebay Stock Replacement
Wheels:Factory Supplied
And the story:I bought this bike off of ebay roughly 7 yrs.ago.It was a rolling basket case.Mileage was unknown.
The transmission leaked,the cylinder heads leaked,the enclosed chain drive and inner primary were trashed,it had a S&S B carb on it.
I rebuilt the transmission,found a nos inner primary and replaced the primary chain,final drive chain and sprockets.The carb was replaced with a S&S E.The bottom end of the engine was good so I had the heads rebuilt,replaced the pistons with cast .030 over's and a fresh rebore and hone.The cam was replaced with a Andrews A2 cam.New tires and brake pads.
It is no beauty queen but it is reliable now and will pull 100 mph.with ease.
The FLT is considered the Grandfather of all modern touring HD models.Many firsts for this year bike,such as rubber mounted engine and 5 spd.transmission.The FXR borrowed the frame for its platform.
Here is a detailed list of the features introduced and or included for the 1980 FLT.
Series FLT-80 Tour Glides
First Year
The Model FLT-80 Tour Glide is an all-new model powered by the 80ci motor
Engine, primary case and transmission bolted into one unit
Three-point rubber-mounted vibration isolated engine
Five-speed transmission
Oil-bath enclosed rear chain
"Sport bike" steering geometry
New frame of welded tubes and stampings
Frame extending in front of the steering head
Frame featuring a rectangular steel backbone, no center post, two downtubes, and shocks in position to allow more rear wheel travel
Cone cover shape to oil tank
Wheelbase measures 62.5in
16in wheels
Weight ( tank half-full ) is 7811b
"Classic" logo on tiont fender
Instruments mounted on the forks
Improved exhaust system
Frame-mounted fairing with dual headlights
Spin-on oil filter
Motorola electronic ignition featuring an electronic advance mechanism
Larger than standard saddlebags and top box
Frame-mounted seat
Dual 10in disc front brakes
Rear brake is single 12in disc
Storage compartments in fairing
Tank without mounted speedometer
Footboards not spring-mounted
Ignition switch includes a integral Fork lock
Two-piece heel-and-toe shifter
----------------------------------------------------------------
aldean
Is it too late to enter?
Year:1999
Model:Road King
Eng size: 124"
Transmission(5sp, 6sp etc): Baker 6 speed
Pipes: D&D Fat Cat
Seat: Bitchin Seat Company
Wheels: RC Components Czar 21 and 16
I've had this bike since 2005. It now has 117,000 miles on it. I had a great paint job on it but then a shop dented my tank and nobody Could match the paint so I got it repainted. The new paint looked like crap and took over a year. Needless to say I got a major part of my money back and had it repainted again. 3rd times a charm! The paint is Kandy tangerine over silver flake base and champagne. The seat is Buffalo hide with Mercedes Leather. I'm happy to have my bike back again...
Before the new paint, I had a custom ordered S&S 124" installed. It's putting out 146HP and 142 TQ. It's a blast to ride now!!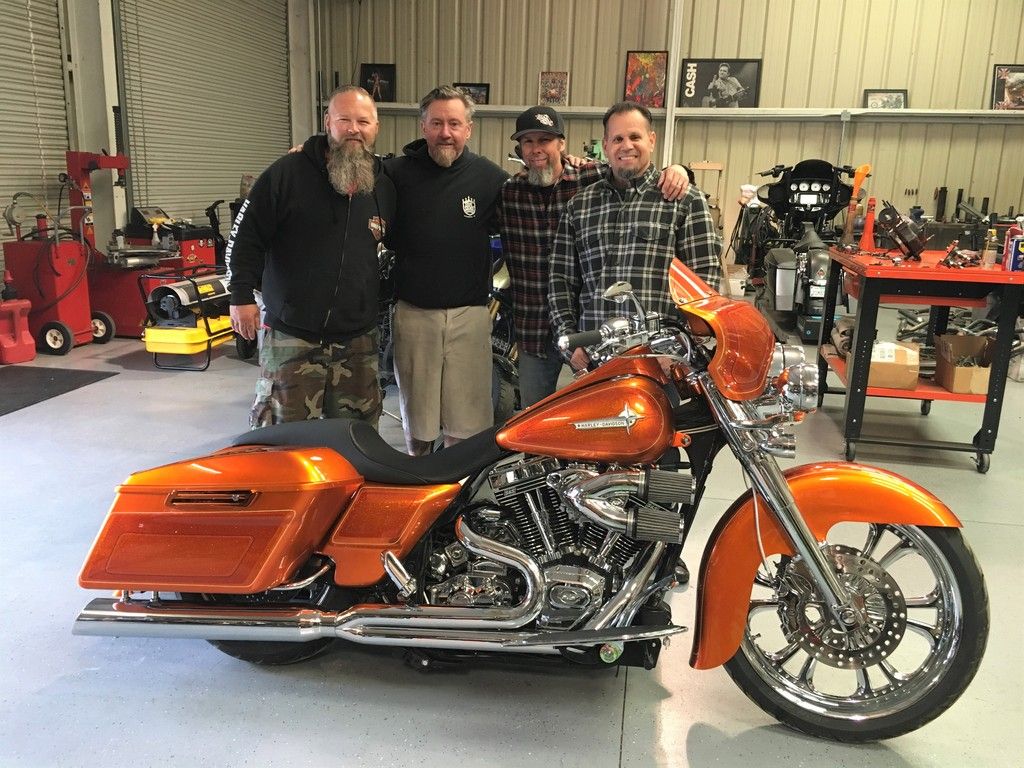 ----------------------------------------------------------------
Well there they all be, six sweet scooters to chose from. Remember, the winner and second place advance. And then we will chose one of the remaining four to fill last months vacant slot.
So let the voting begin.