Discussion Starter
•
#1
•
I joined in here last April as I was getting the endorsement on my DL... Have been renting HD's since. Not that I couldn't afford one, more like didn't want something else to polish, change oil etc... I live on the water (salt) and that is an issue too. Besides, I already had quite a toy box going.... Being a snowbird, shipping a bike back and forth from NJ to FL isn't intriguing either (already do that with a car) plus, I tow one of the boats back and forth every year.
About 3 weeks ago on a Monday it was nice and I wanted to take a ride, but didn't feel like going to the dealership, leaving the car etc. Decided to look for a nice size rice burner for short money that already had some rust growing on it. Use it here in Joisey where I only ride during the week, off the island where nobody sees the bike anyway... In an effort to keep this short, I will just say a friend offered me his 02 Honda VT1100 with 1400 miles at a price I couldn't say no to... So I need keep it polished.... Oh well....
Here it is, my sacrificial Honda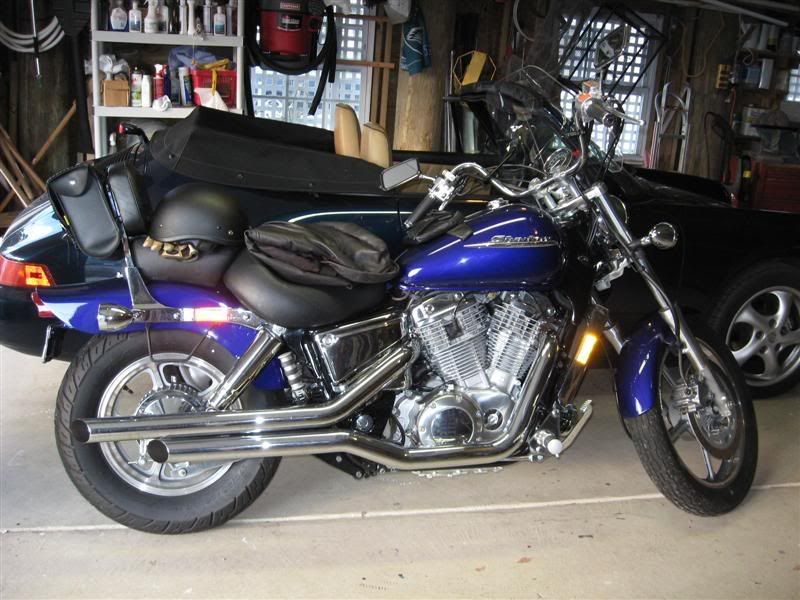 After having the bike for a week, I knew I would end up buying one in Florida, HD a must there. I had already been annoyed with getting rides and dropped off, not having what I wanted etc at the dealership last spring. I knew I wanted a Dyna, preferably a WG... So the plan was to buy something I could ride and sell at the end of the season. I found this 99 WG on ebay with 2200 miles on it.. Bought it right (from what I've seen) $8600... Going to fly down and pick it up next week. How'd I do? Think I'll keep it in May or flip it?