In a previous post about the 05 oil consumption, I examined the new style oil seals. I compared the -02 version with the -02A version. After noticing the build up of oil in the spring seat, I suggested that drilling a series of holes in the spring seat could eleviate the problem. The holes would not allow the oil to build up and bypass the seal at the guide diameter. I still feel this would be an adequate resolution to the problem. Here is the thread ...
http://www.v-twinforum.com/forums/sh...ad.php?t=63946
At
Big Boyz Head Porting
we have several solutions implemented and so far have not had an issue, including using the drilled spring seats. Although we only use the updated -02A seals for customer heads, we never stopped looking for a better solution. Recently we located a company that was examining the same oil consumption problem and had an opportunity to compare notes. What they determined to be the problem was the build up of oil in the spring seat, as we had also seen. I had summarized the oil was entering under the spring seat. They had a different opinion. What they found was the oil was entering where the seal and the spring seat met. The solution was bonding the rubber seal to the metal spring seat. This would stop the oil from entering the spring seat and becoming trapped. They also extended the spring seat which seems to give it a more positive location off the guide.
To check the theory of the oil entering between the seat to seal connection, I took a few apart and did a simple visual examination. The first thing I noticed was a coating of oil between the seat and the seal. After I took seal out, there was a significant amount of oil on it. I wiped it off on the paper so you can see it.
In the very near future we will be implementing these seals on all 05-06 heads. We will also have them available for purchase.
Here are the different valve seals
In this picture the red arrow points to the oil in the seat to seal contact area. Note the shine on the rubber were the arrow points compared to the rubber above it. That is the oil, difficult to capture in the picture.
The yellow arrows point to oil on the seal and on the paper where I rolled it so you can see it better.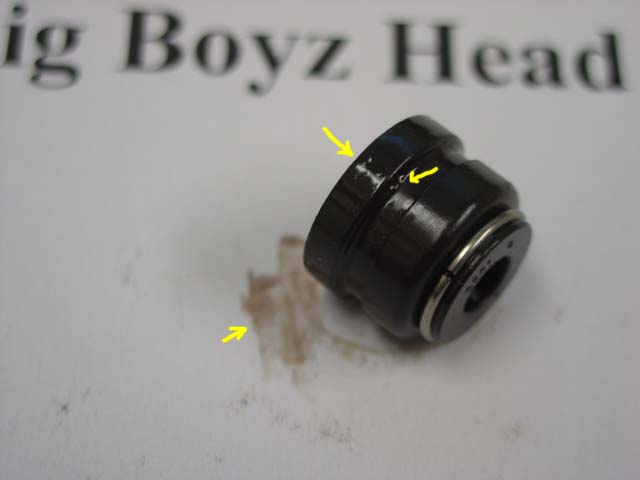 This is the new seal. The Red line marks the added spring seat metal I mentioned above. The yellow line indicates the bonding area. The blue rubber is bonded the entire distance of the yellow line, inside.