I'll probably get slaughtered by the awesome bikes already shown, but I'll throw my hat in the ring anyways. My ride is a little different flavor from those already you've seen in this thread so far.
Lets start with the basics......
Year: 2001
Maker: Kawasaki
Model: Drifter
Named: Nadine
Eng size: 1500
Pipes: Vance & Hines Longshots
Seat: Fire & Steel
Wheels: Stock Spokes
Accessories: The list is long, check out the story
And the story: OK, here goes.........
I wanted bike that the wife and I could enjoy before she could no longer ride. You see, she has Muscular Dystrophy, and it's degenerative, so one day she won't be able to ride anymore, but in the meantime, we ride!
I've added floorboards for my wife (on custom made brackets), and did a ton of my own custom leatherwork (a skill I picked up many years ago). All of the floorboard skirts, tour pack leatherwork, and fender skirts are my own work. The tank bra and rear fender bib are from Chilowee leathers. There's Iso grips under the fringed and laced covers for my comfort. The pipes are Vance & Hines Longshots that have a nice throaty sound with a bit of bark with a twist of the wrist. I've also added a Meanstreak clutch pack with the 2 piece holders that give the bike a more positive feel. I also fabricated my own license plate lay down bracket that is totally hidden for a nice clean look. The tank badges and air cleaner emblems are from Zambini Bros (I've stripped all the brand labels from the bike totally). The tour pack is an old '69 Harley shovelhead pack (custom made brackets) that I fitted with a current model Harley wraparound backrest pad (to keep the wife planted). I created a bracket to move the rectifier under the radiator and in it's place on the left side I've mounted a 50's era chrome Harley tool box on a custom made bracket. I've also added amber fog lamps and a custom bag behind the Nomad style windshield. The mirrors have been swapped out for some Emge mirrors that are a bit more curvaceous. On the 2up seat, I stripped it down and added gel pads to it for comfort (mostly for the wife).
The future calls for a little more leather work, a fender light I've had for a while now, and I'm working on some home made lowers. After that, maybe paint, if I can make up my mind on something.
Personally, I like the solo look best, but I ride with the 2up look most of the time (the wife loves to ride ya know).
But enough words, how about some pics?
Before fog lights and mirrors.............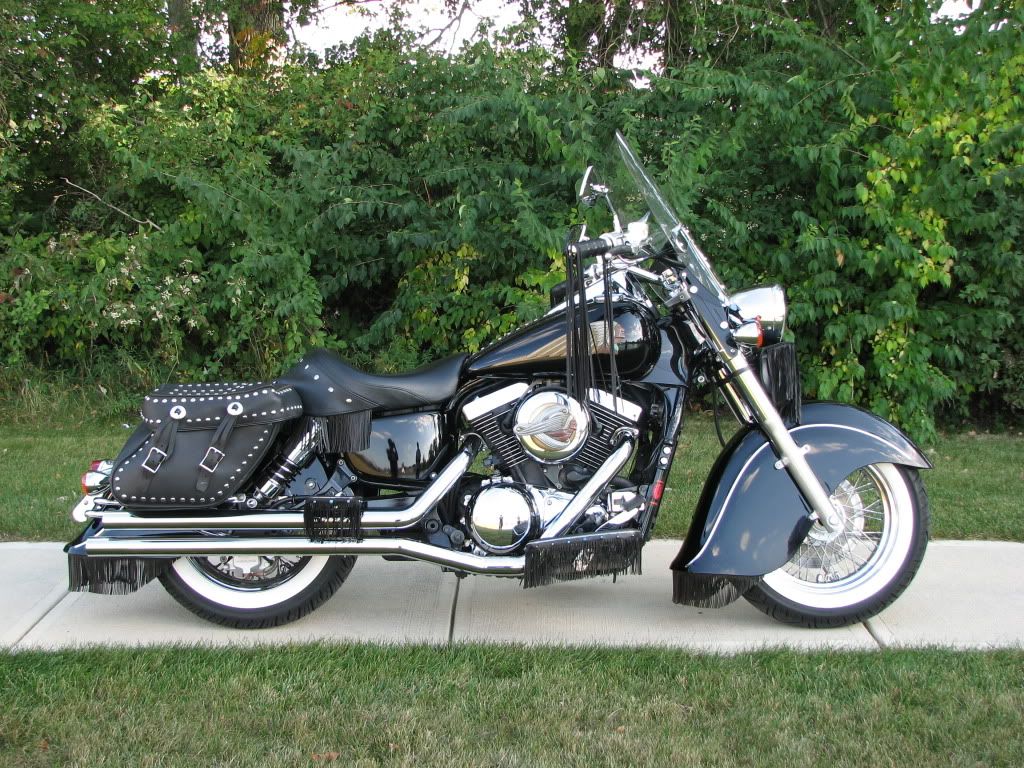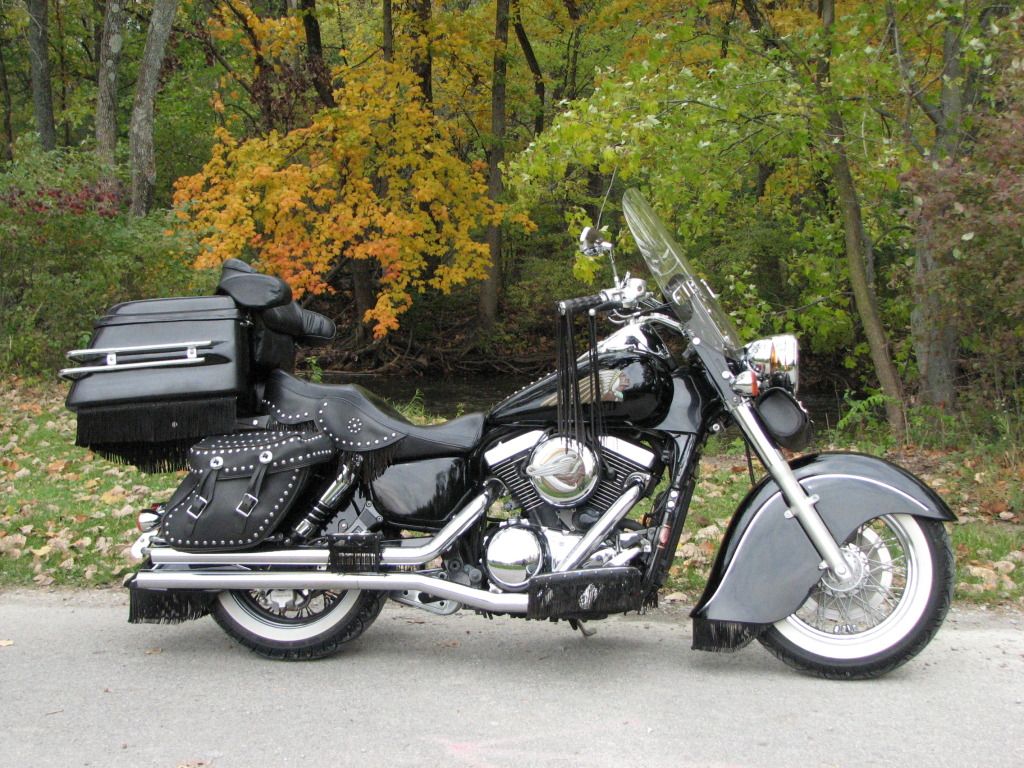 Old mirrors and a chrome spark plug box in place of the current windshield bag.....