Congrats again to Tx_Outlaw who won a close race in October. Now November is upon us, let's see what we have...
BBChopper
Can't Ride It? Then Wrench It!
I'm out with back issues again so this is all I can do for now.
2005 Big Dog Chopper, 117 S&S lot's of one off parts.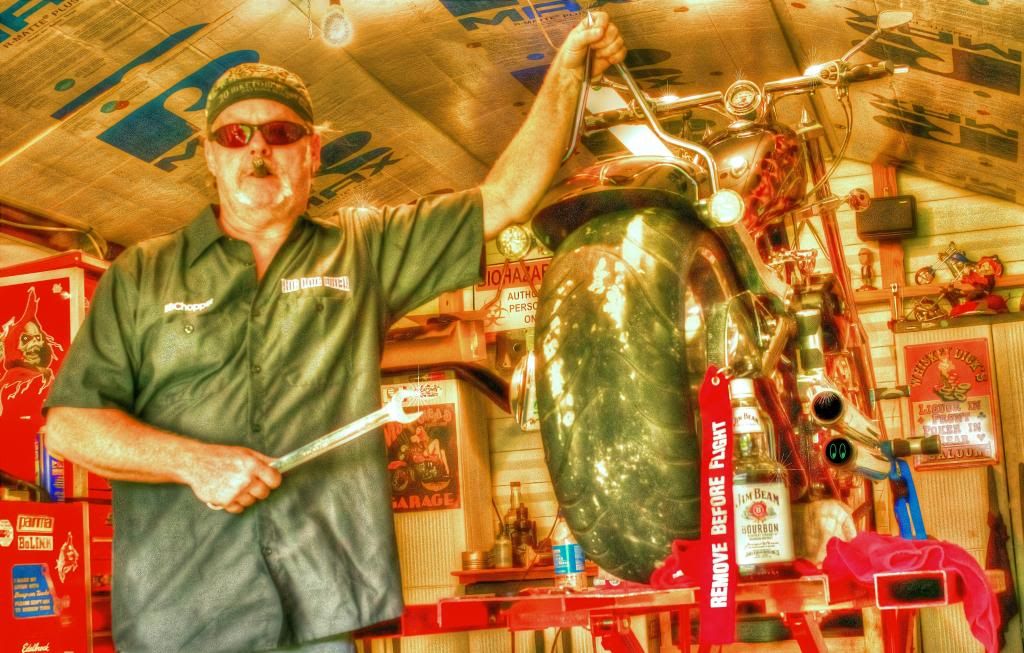 93FXSTC
Entering my Bike: 1993 FXSTC BLUE/SILVER.
see post: Back After 23 Years
Krowbar
My ROTM Enterance... Meet Hog Nasty. Hog Nasty, meet VTF.
Hope you all enjoy some old Iron.
Year:1972
Model: Superglide FX
Eng size: 74" (about 1290 after bore and rebuild)
Transmission(5sp, 6sp etc): 4 Spd
Pipes: Cycle Shack drags gutted
Seat: Drag Specialties slim seat
Wheels: OEM spokes 15"/19"
Accessories: 16" apes, S&S Super E, Cycle shack pipes, nothing too crazy. Keep her factor.
And the story: This is the bike that started my infatuation with Harleys. It is guilty as charged. Ya see, before this bike entered my life, I rode those annoying street bikes. I had an '06 and an '07 GSX-R for awhile. Sold the '06 and eventually found Hog Nasty, my first Harley. We fell in love. I occasionally dabbled on my Gixxer, just because I didn't think I was strictly a Harley guy, was I? At only 24, surely I preferred the wheelies, dragging knees and insane acceleration. I couldn't be an ol' fart who strictly loved Harleys yet, was I? It wasn't until I rode with a couple of friends. One on his street bike, and the other on his cruiser '80s Honda Goldwing. I took my street bike to have some fun in the canyon with the other cat. The entire time I just wish I was on my my Hog. Within a week I sold my Gixxer and got an 05 Sportster as my daily driver with the intention to turn my Shovel into something fancy.
I now own 3 bikes. You can see them in my sig.
Have a good day everybody!
Nitram b4
2000 FXSTS
Wild Chubby internally wired drag bars
A.N. Grips
Switched the rear fender to a 2002 FLSTC
39 ford style tail light (thinking of switching to Tombstone)
SE Solo Seat
Lay down license bracket
New turn signals
Front turn signals relocated ( sportster signals)
Road King fender chrome
A.N. Ball milled round air cleaner cover
V&H Short Shot exhaust
Custom polished SS rotors
A.N. Oil pressure gauge
performance upgrades
A.N. Big sucker
New style SE Camplate and oil pump
SE 203 Cams
Daytona Twin Tec ignition
97" Big bore kit about 9.7 to 1 at this point
new set of 2008 ported heads (waiting for my lazy ass to install)
S&S valves1.90 in* 1.625 ex.
S&S valve springs
Manual Compression releases
Fueling Lifters
SE Adjustable push rods
Modified CV Carb
Stock 5sp tranny
Various other crap
I have a set of hard bags, need to drop the mounts about 1 3/4"
oh yeah 56,000 and going strong
gretsch58
My Shovelhead Frisco Bobber
1971 80ci Shovelhead motor.
4 speed kick only transmission.
Karata 1.5" Belt drive.
Narrow Glide front end, 21" Spoked wheel.
Custom made Z-Bars.
Paughco straight leg rigid frame.
Ultima Cases.
Ultima oil tank.
Sporty Frisco gas tank.
Custom Paint by Flame Thrower Customs in Ohio.
Bought this in May 2012 in boxes. Sold what I didn't want, and built a custom old skool frisco style bobber.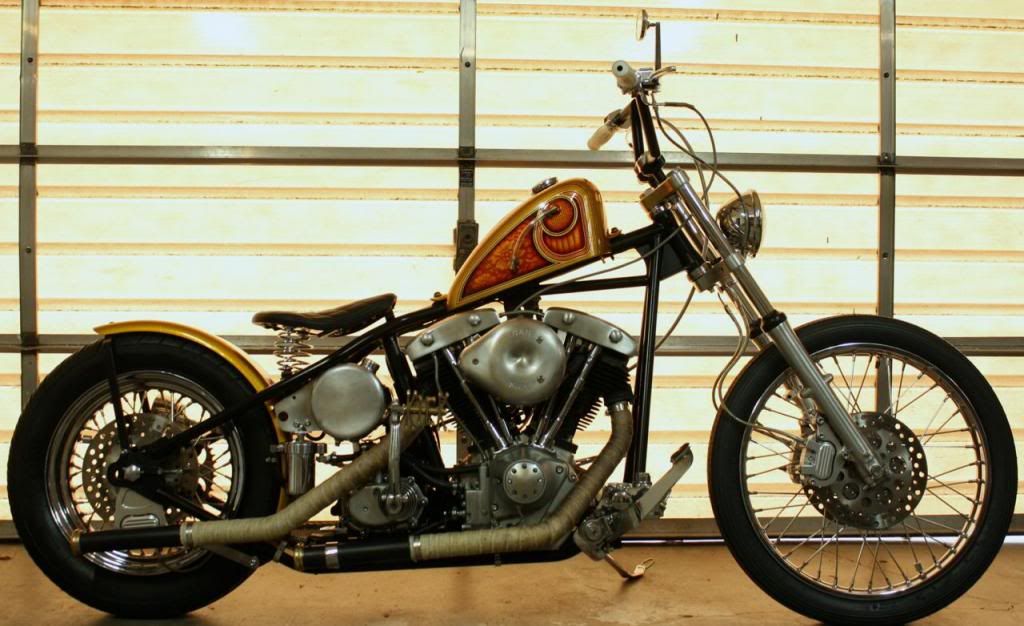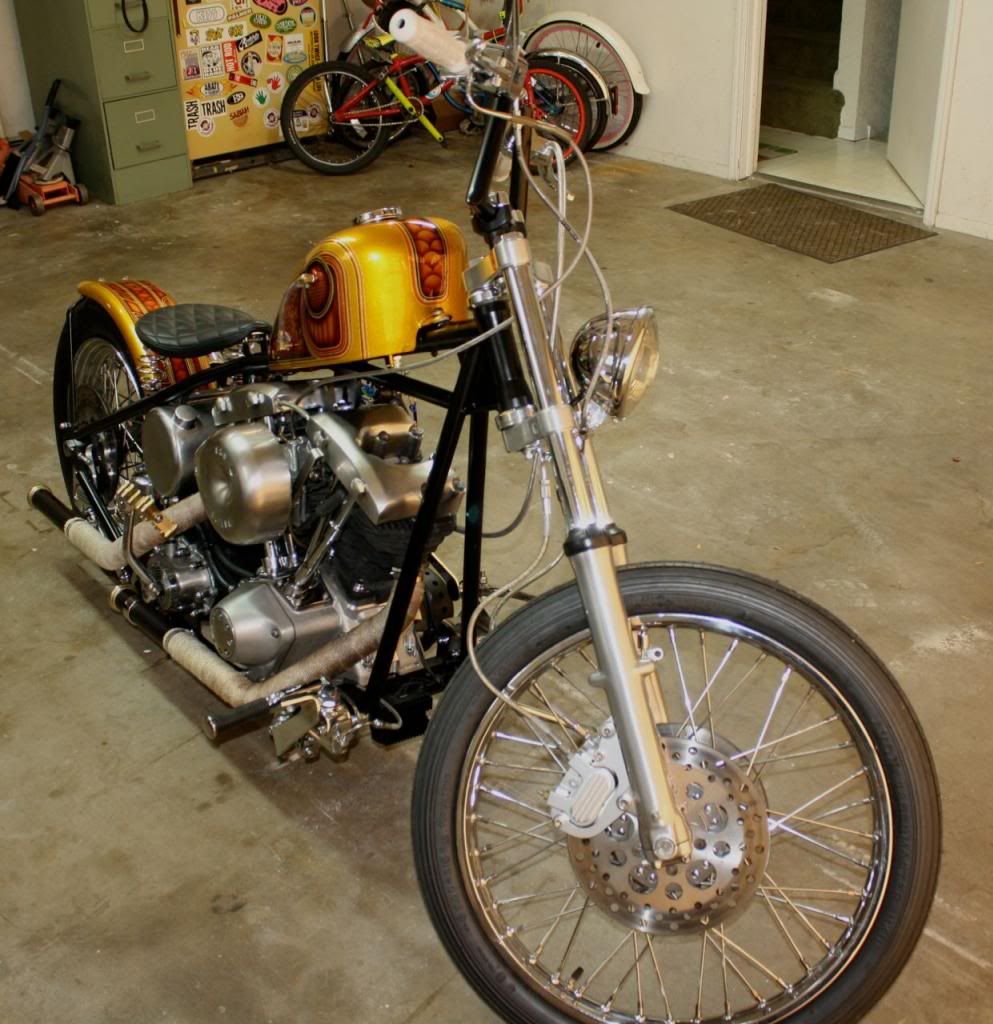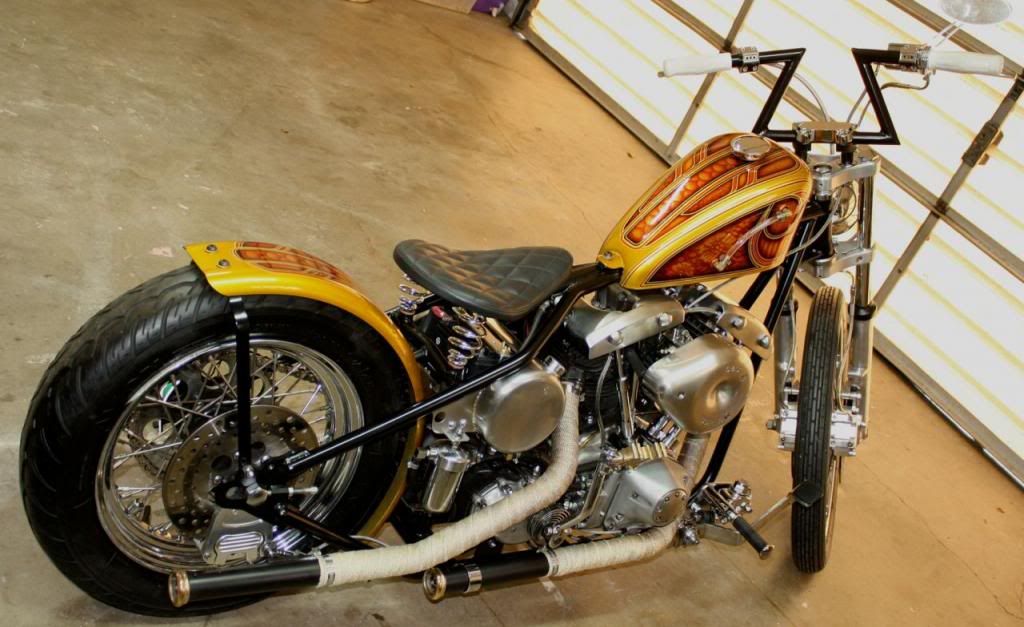 More pics and story can be found here
http://www.v-twinforum.com/forums/ch...vel-build.html
Thanks to all who entered, we have no contest without your entries.