Excellent turnout this month, sorry I'm late posting. Here we go...
Roadcannon1
2008 Road Glide With Original 96 inch now 103 W/570 Gear Drive Cams Eagle Air, $6000 in Chrome 8-1/2" Mini Apes, Cushion Grips, Mustang Seat, MotionTech Led's (all hidden).
Adamb58
2006 softail
I decided get a motor cycle after selling my last one almost 11 years ago and wanted to try my hand at building a custom Harley. So bought a crashed 2006 softail at an auction, a custom softail frame from a guy that knew a guy, and lots of stuff from mail order catalogs and ebay and went to work. I spent a better part of the year building it.
Year: 2006
Model: softail
Engine: stock 88
Transmission: 5sp with 1" offset kit
Pipes: Cobra
Seat: custom by Mark Milbrandt
Hand controls: Performance Machine
Foot controls: Performance Machine
Front end: Hawg 6" over stock
Speedo: Digital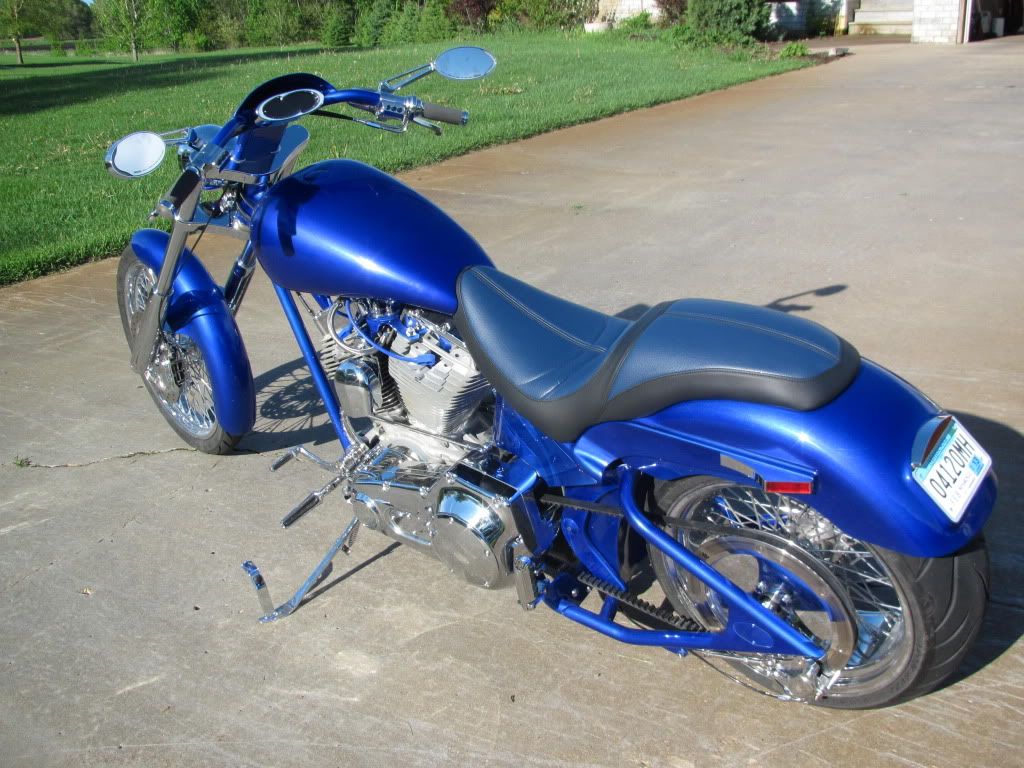 wildbilljr53
docrocket1967
I forgot to put the info with mine but it is a 1999 sportster. 180 rear, 21" front wheel, fat boy tank and a bunch of other mods.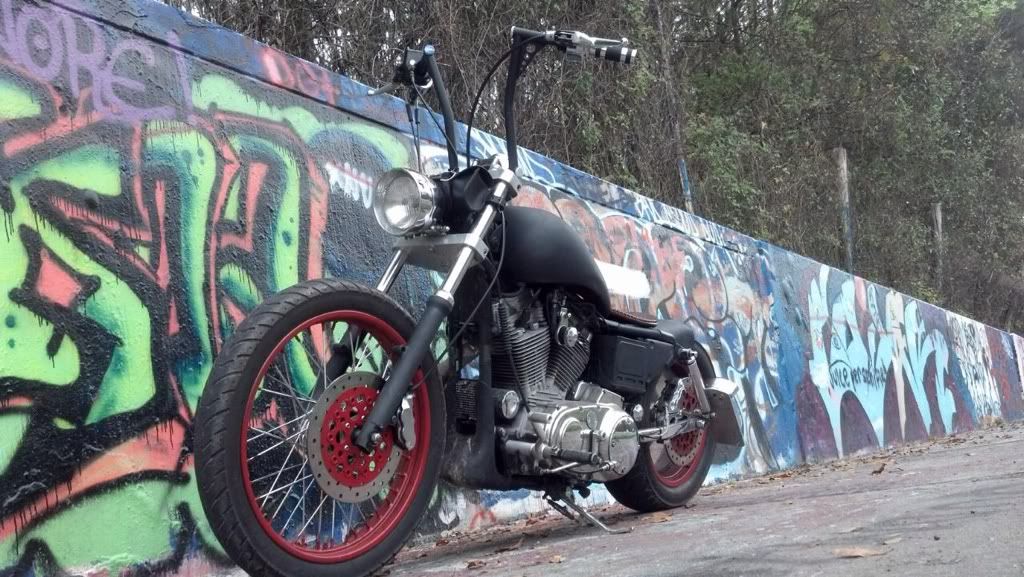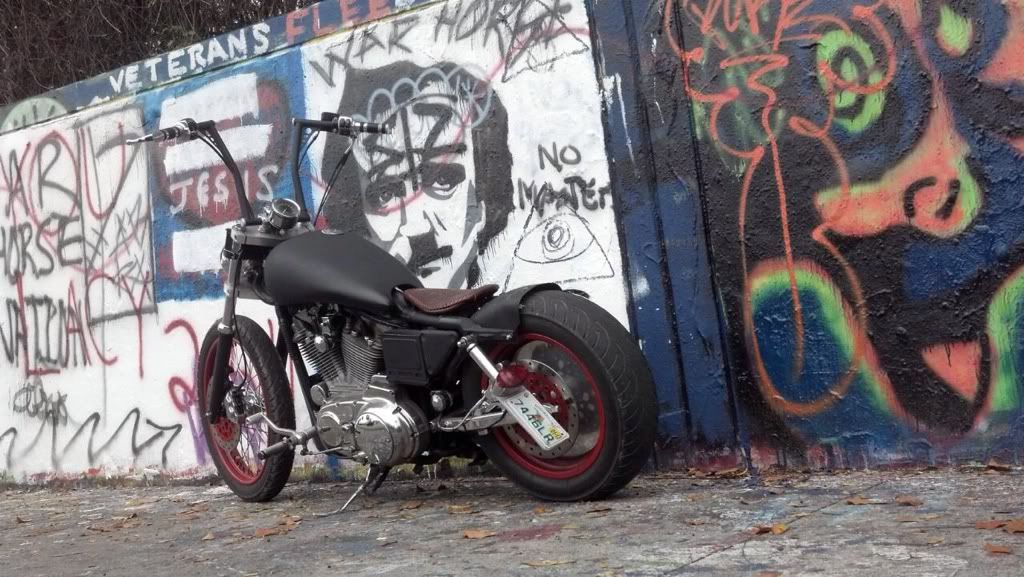 grndpndr
Santee frame (cleaned up)
107" motor
delkron motor and tranny cases
axtell ci cylinders
edelbrock performer rpm heads
edelbrock dual quicksilver carbs (they are for sale)
ss crank
carrillo rods
roller rockers with cnc billet mounting blocks
.600 cam
bailey oil pump gears
primo 3" belt drive
Bassani pro street pipes
powder coating by Sumax
7" headwinds head light
55mm storz ceriani inverted front fork
PM dragon wheels 18 r / 21 f
PM six piston dual 13" front brakes
PM 4 piston rear barke
PM foward controls and pegs
rear wheel speedo
all hand worked tins, 2" into the tanks, carved fenders to match wheels, reworked millwaukee iron dash
various one off parts,....seat, air dam, lower fork tree mounted tach and oil pressure guage bracket
ness radius motor, tranny and push rod covers
These are the pictures AFTER I totaled it out the first time!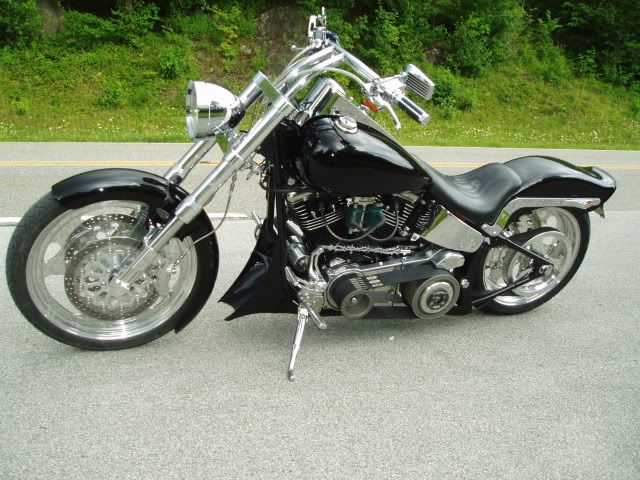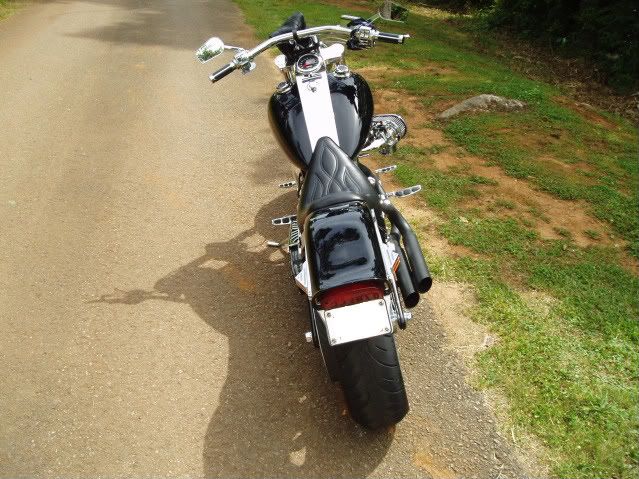 badoggy
97 low rider
[IMG]v-twinforum.com/forums/members/97712-badoggy[/IMG]
204 cam deuce
2004 duece to much to list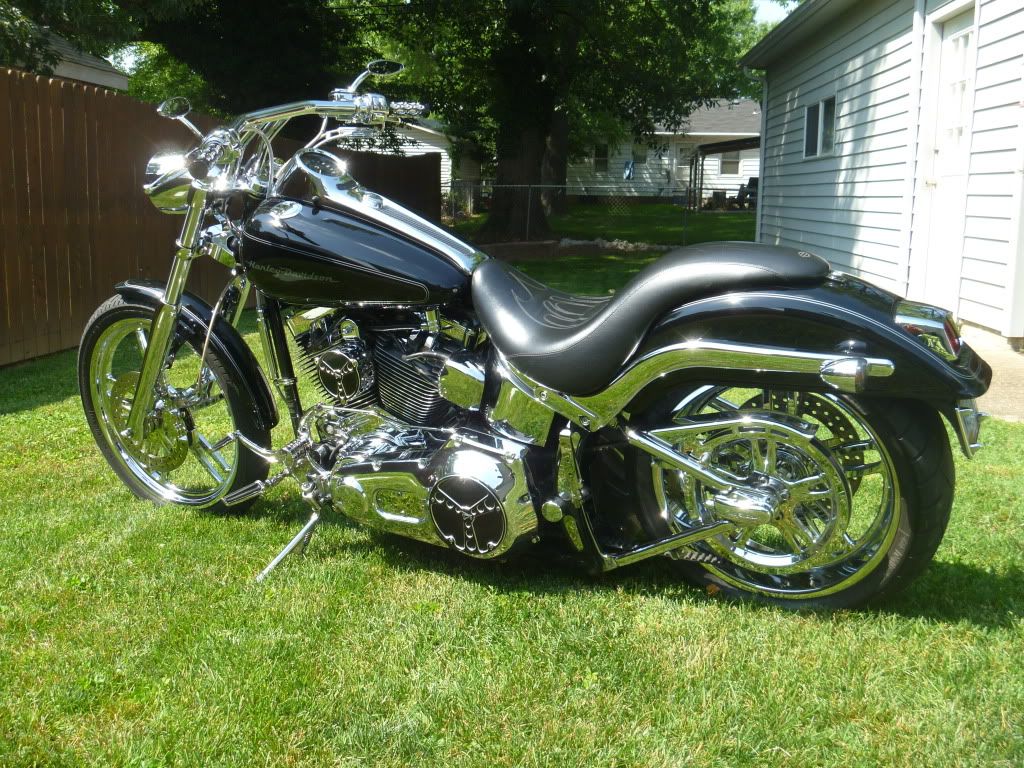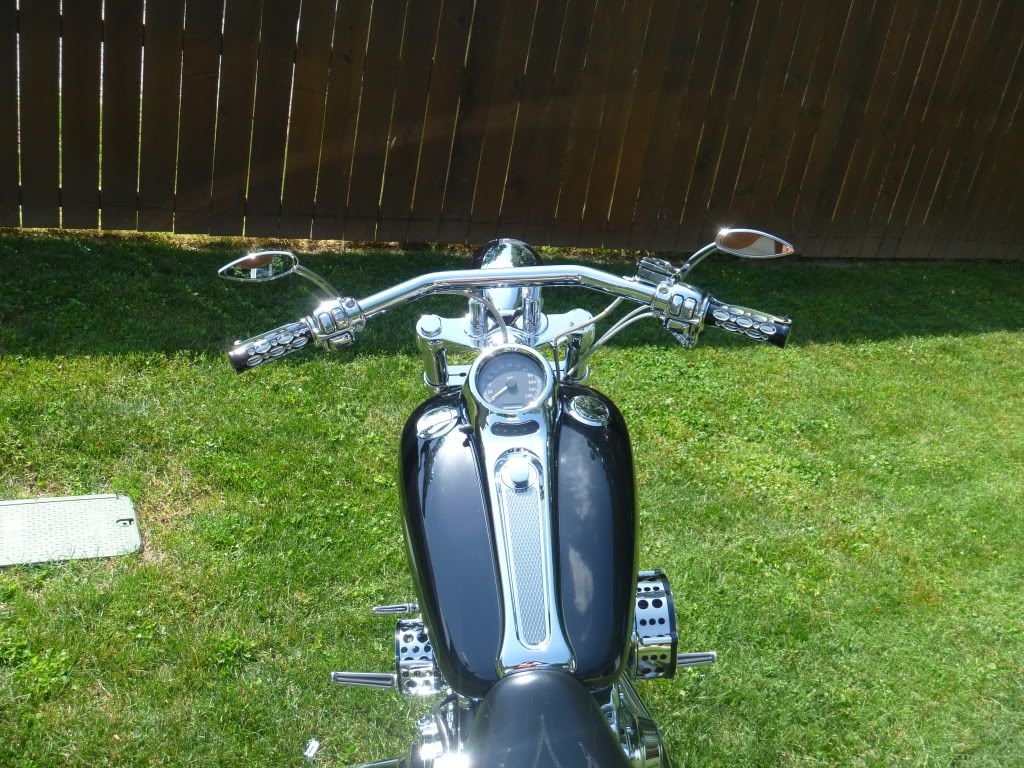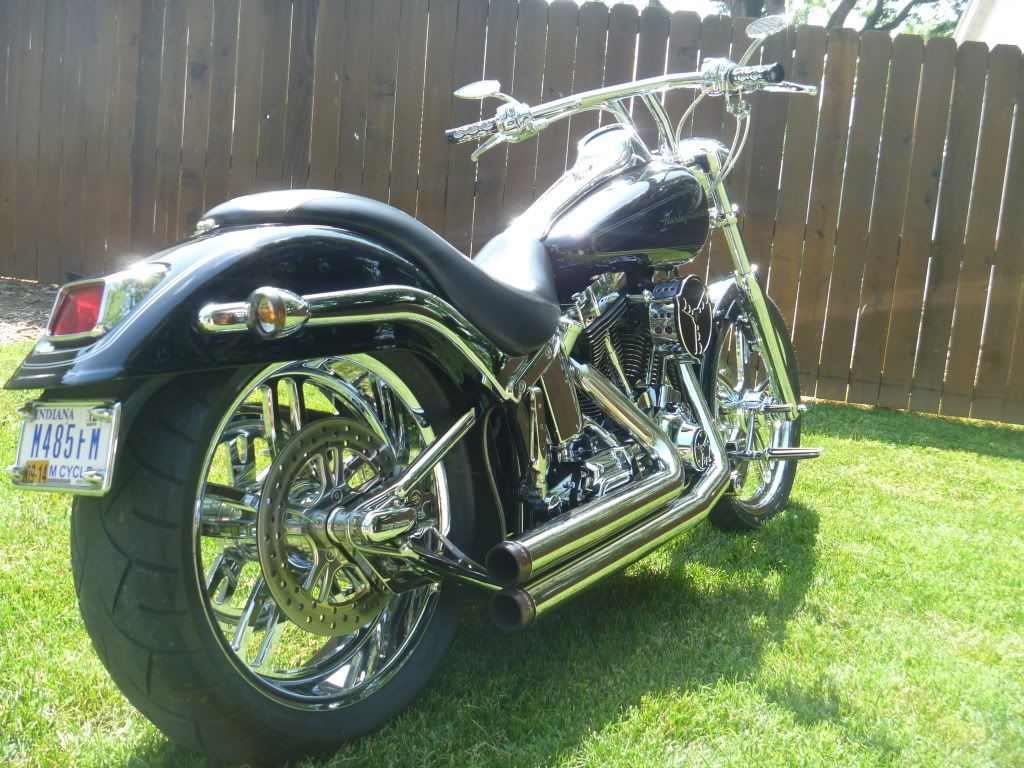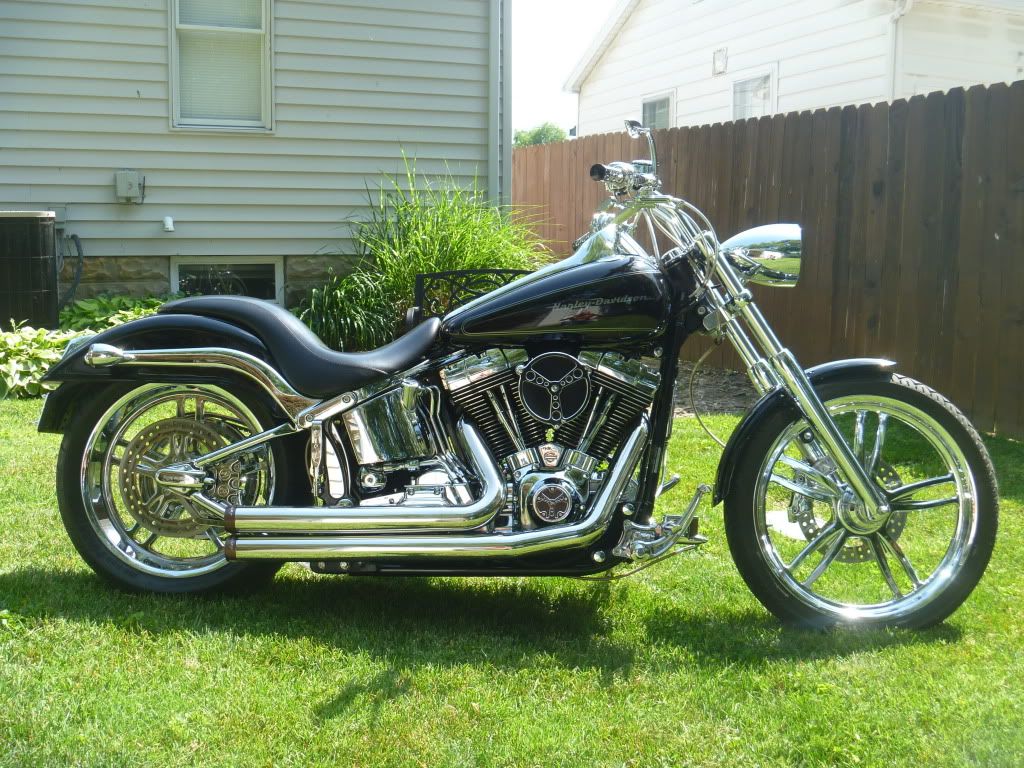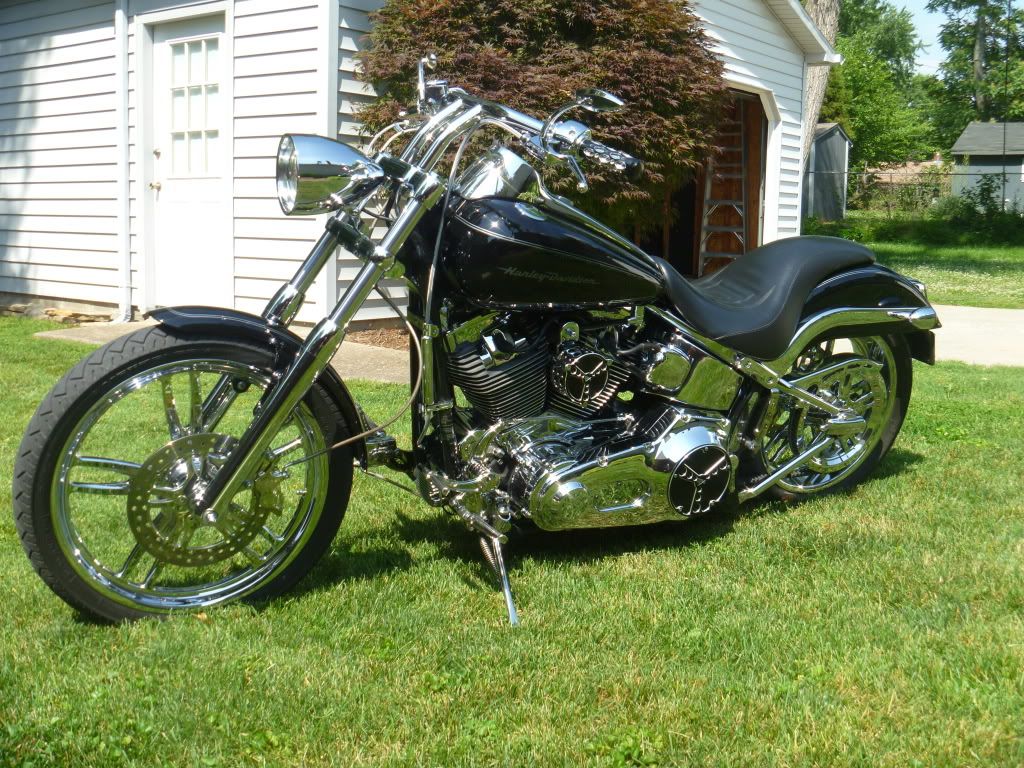 Conolon Kid
I'll give it another shot:
1949 FL, Original motor, trans, frame & title. 1345cc, 9 1/2:1 Wiseco pistons, S&S rods & wheels, Bendix Zenith carb, 4-speed, HD oil tank, 2 1/2 gallon Sportster tank, original drum rear brake, custom covered Bates style solo seat, Paughco Hi/Lo drag pipes, Paint is dark charcoal with real fine metal flake, Avon Speedmasters (16 rear/21 front).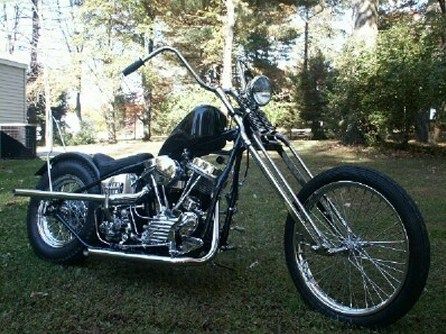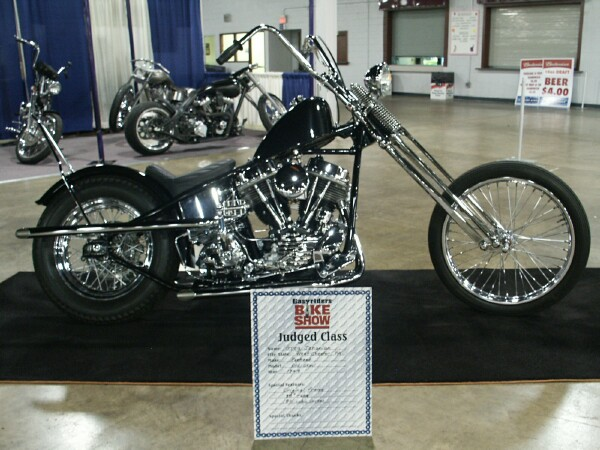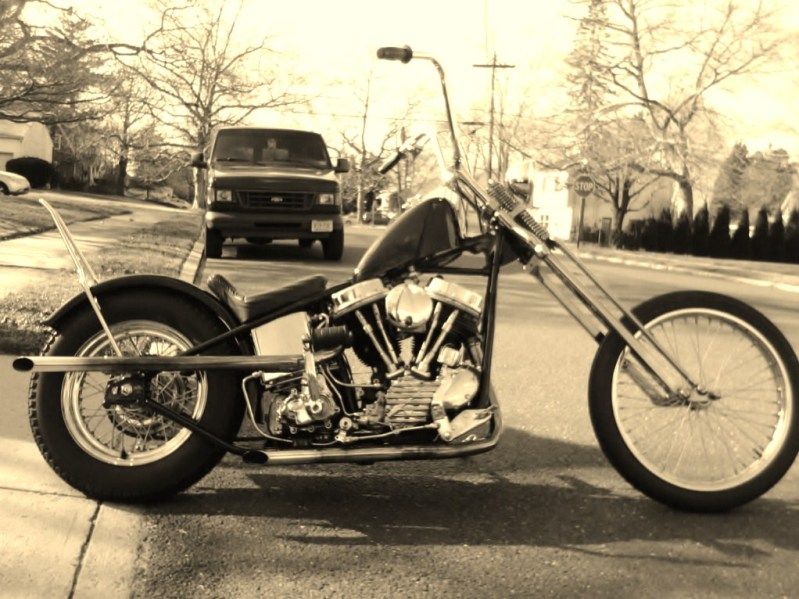 ghostrider69 (bike #1)
Been looking at past months and this month and I have to say that there are many clean rides here.
Year: 2011
Model: FLSTN
Engine: Stock 96"
Trans: 6speed
Exhaust: Samson 39" Cholo Longtails
Seat: Lepera Bare Bones
Accessories: None really
SoftBrake License Plate relocation kit
FLSTS Flying Wheel Derby and points covers.
A little extra chrome here and there and lots more still in the boxes waiting to be put on.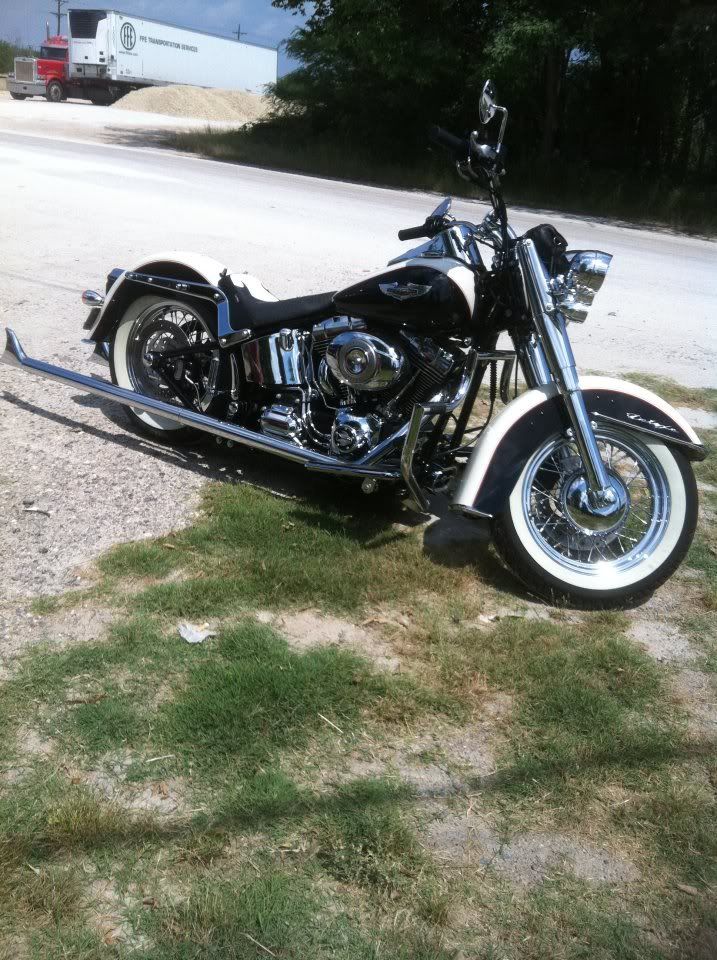 ghostrider69 (bike #2)
Year: 2009
Model: Dyna StreetBob
Eng size: 96"
Transmission: 6speed
Pipes: V&H Big Radius
Seat: Stock
Wheels: Rear is stock and front is from a WideGlide.
Accessories: Chrome chrome chrome
And the story: I bought this bike and thought I was going to like it but quickly realized it wasn't what I wanted so slowly transformed it into something a little more presentable. I modded a Milwaukee Iron rear fender to fit between the fender struts. Sprayed it with metallic silver and metallic red scallops pinstriped in black. Installed a set of WideGlide style 3 degree trees and a set of Wild1 16" Chubby apes with chrome controls and braided cables. I installed a WideGlide 21x2.15 front wheel and turned a set of spacers for it. The forwards on a Dyna are a little more of a reach than a Softail so I fabbed up a set of kick back plates for the forwards and cut down the brake rod which brought the controls back 1 3/4". I replaced all of the covers I could easily replace with chrome covers. Illuminating the way is a Cobra ll headlight.