Wow, awesome turnout this month. Thanks for all these entries but it's going to make deciding on the winner very difficult. Let's get going!
FatboyBass
Hi all ,
some pics of me & my 1978 XLCR. Don't see many of these around here in the U.K. This is my 2nd XLCR, I've always ridden Harleys, from the mid-70's when I had one of the AMF 2 stroke SS125's, through to a Dyna Glide, 2 Fatboys, & an Electra Glide Ultra Classic. I've always loved the XLCR, from seeing pics in a book here in the UK called Super Bikes of the 70's when I was a teenager. That book had things in it such as the Honda CB750, Kawasaki's Z900, Moto Guzzi Le Mans, Laverda Jota & such like, but the book always fell open at the XLCR pages, and I loved it.
This 2nd XLCR was bought by me last Sept., it had been standing a while & hadn't run, it looked quite sorry for itself & needed a bit of TLC. I got it home, & over this Winter I gave it a real good going over, changed all fluids & ignition parts, new brake parts, fuel system parts, fork lowers polished, exhaust re-coated. Paintwork could do with a little attention here & there, but I'll leave that until this riding season is over. I love riding it, and it always draws a crowd when parked up, even if most folk don't know what it is: "That can't be a Harley....... can it??"
Hope you enjoy the pics,
Cheers,
FBB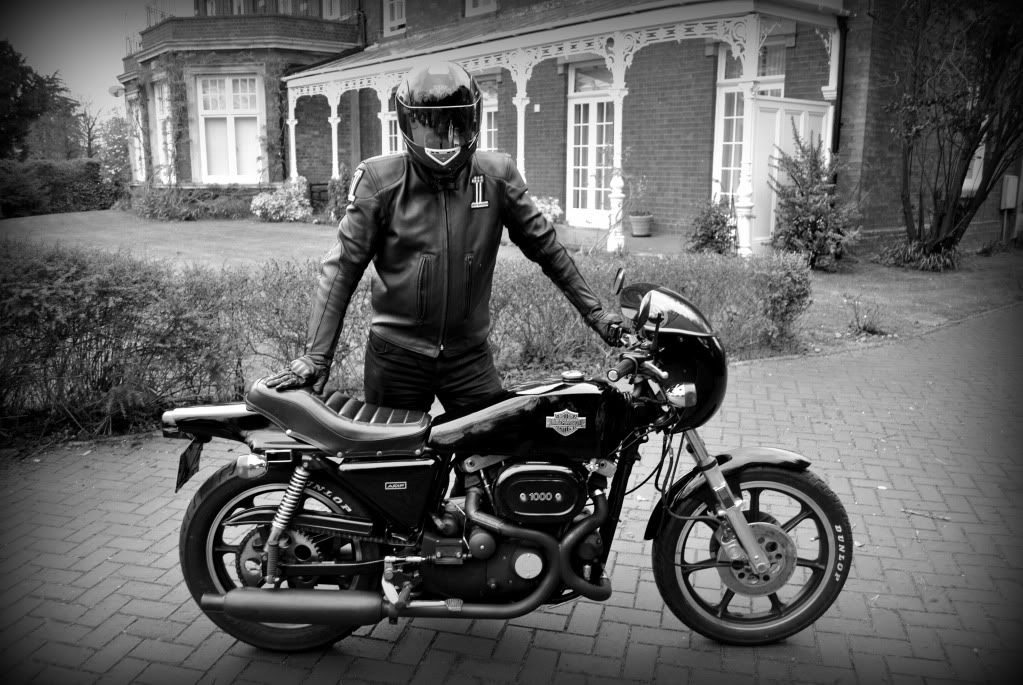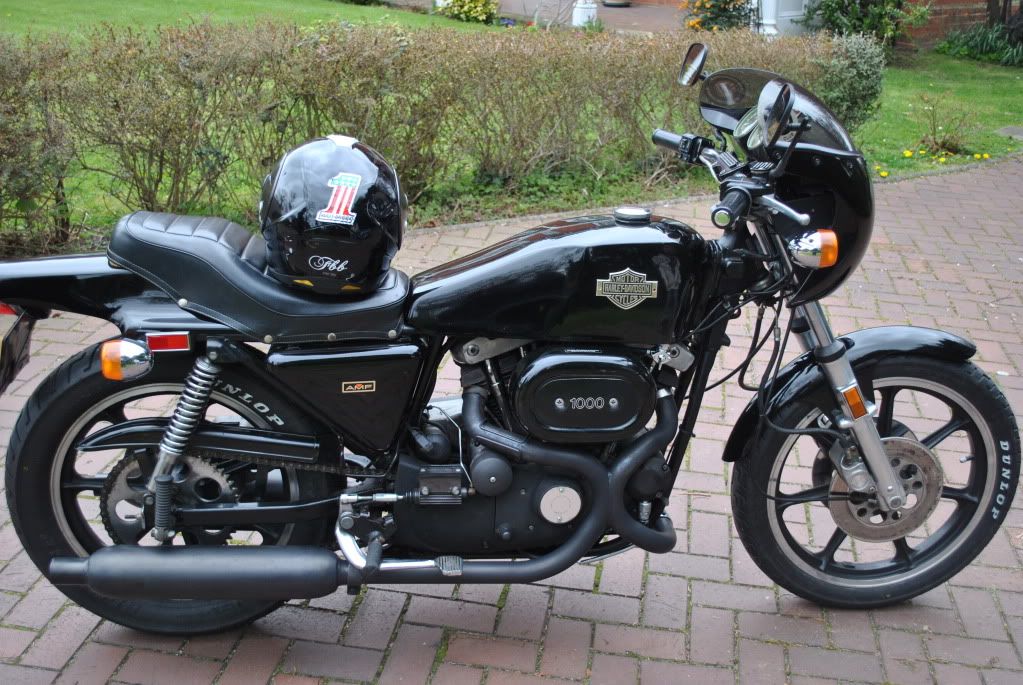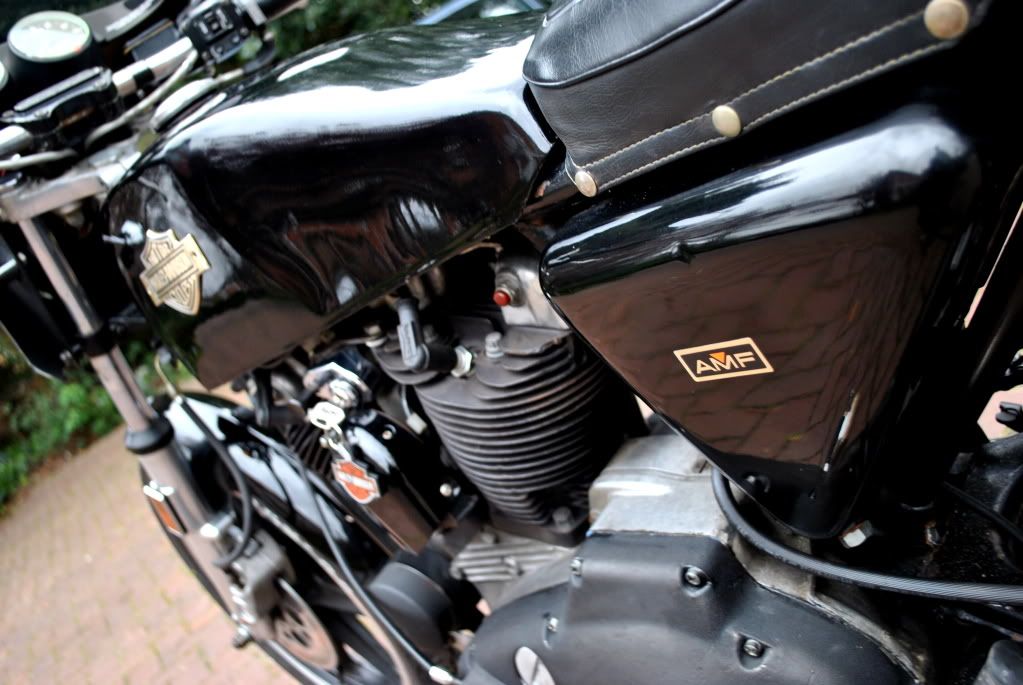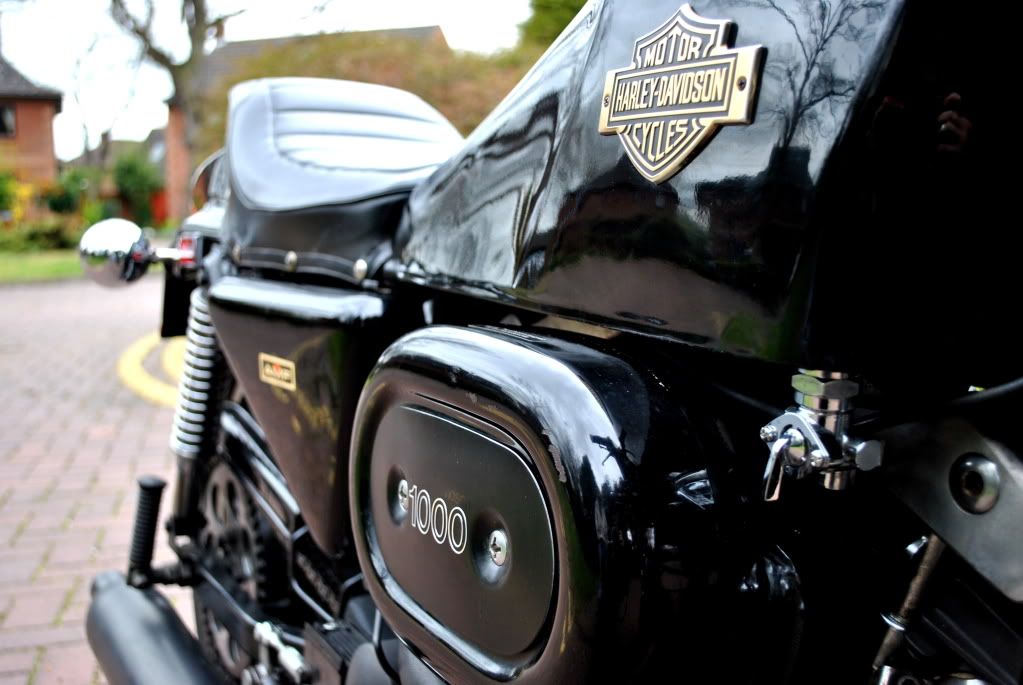 bsindian
This is my 2011 Streetglide
I call it Black Sabbath, the paint was done by Bad Ass Paint. It has the 103 ci with stage 1, hydraulic clutch, 250 watt J&M amp with 7 1/4 roccker speakers. It's one of the best rides I've ever driven.
decman
My 2001 XL1200S, 18" rear wheel, rearsets and Supertrapp 2:2 XR pipes, Avon Distanzia tires.
8541hog
My 05 Wide Glide...Well actually a Wide Fat Super Glide
I have the Super Glide tank and console, Fat Bob headlight and pipes, Hawg Halters 4 degree trees, 2" extended forks and Supreme Legends extended controls. I have made several of my own parts, such as the 2-1 exhaust, AC and Derby covers, fork brace, handlebars and all work has been done by myself, with occasional help from friends when an extra set of hands were needed.
Over the winter I had to completely rebuild her due to an unexpected encounter with a deer over Thanksgiving weekend. My son flew in to give me a hand, was great wrenching with him again.
Here are a few pics, you can see more on my site:
DragonTattooz
1999 FXR2. Arresting Red. 1 of 450. First of the CVO bikes. 26,000 miles.
80ci Evo (I think I had it bored .030Ē when I rebuilt the engine)
STD heads
Leinweber E5S cam
Keith Black 10.25:1 pistons
V-Thunder adj pushrods
S&S breather gear
Billet pushrod covers
Jim's billet lifter blocks
Mikuni HSR42 carb w/K&N filter
Daytona Twin Tec single fire ignition
V&H pipes
Carlini torque arm
Baker 6-speed gear set
Rivera Pro clutch
Spyke starter
JB brake calipers
Floating rotors
Russell stainless braided brake lines
Race Tech front springs w/ emulators
Screamin' Eagle fork brace
American Legend billet forward controls
Memphis Shades quick detach windshield
Drag Specialties stainless braided cables and hoses
Accel heavy duty alt/reg
Odyssey battery
Lots of other chrome and little detail things I have done.
I also have leather MoCo saddle bags and a more comfortable Mustang seat for cruising with my wife.
The bike was in good shape when I bought it, but it needed a little attention in a few areas. I decided to tear the whole thing apart. Itís pretty awesome now. I canít imagine ever selling it.
Thanks for looking!
03hdfatboy
Here is my 03 Fatboy before I got hit in SC my some bimbo. I've gotten it back on the road now. I've replaced or repaired the following damaged items. Replaced1" bars with 1-1/2" T bars, replaced the right side floorboard, repaired the mounting bracket, replaced master cylinder rear brake line and brake leaver. Cam cover, exhaust for the front cylinder, repaired the front and rear signal lights on the left side, repaired rear fender and strut, replaced my speedo back to the original I had a nice one w/tach but glass is broken
Repaired my AN big sucker air cleaner, OEM cover. Wiring,switches and levers on bars and repaired headlight bezel.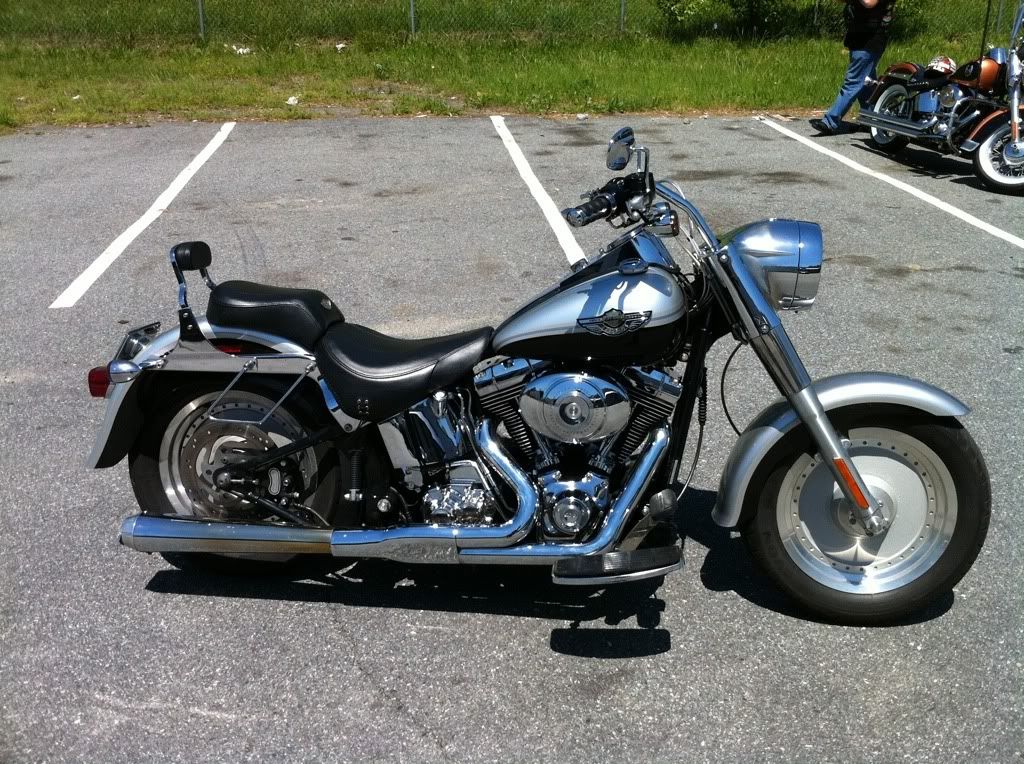 harleydude2002
07 Ultra with a white/gold pearl :c lap::cla p:
cbcollins
Here is my entry for ROTM. This is my 1994 Springer Softail, Aqua pearl metallic tins, 1340 Evo engine, mikuni carb with a kuryakyn Hypercharger, Vance & hines shortshots pipes, C&C flame stitched Fastback seat, DNA 80 Spoke wheels, 1 1/4 buffalo bars with kuryakyn grips, Larosa solo bag and lots of chrome, thanks for looking and good luck to all who enter.
mrjbinok
1986 FXRS Low rider, Andrews EV51 Cam, Polished and Ported, Thunderheader 2:1, Mikuni HSR42 Carb. Progressive Front Springs Progressive Rear Shocks, Spherical Bearing swingarm upgrade, Velva-Ride Motor Mount and Stabilizers, Sports Front Fender, Extended Rear Fender, 70's style Shovelhead saddlebags on custom made brackets.
What the original looked like when I bought it last year
Thanks for Looking and I hope you'll consider voting for "Back in Black"
undrwtrmat
This was my first ground up build. This bike is a blast to ride!
There we have it, again my thanks to all who entered. Looks like you guys been busy this winter...lol.