Wow, a lot of great entries this month! Let's get 'er started!
florida dyna
2011 FXDC. Colormania paint, street slammer bars, arlen ness mirrors, grips, pegs, vo2 naked stage 1, v@h 2 into 2 big radius exhaust, v@h fuel pak, front and rear turn signals relocated, I think that is about it.
Mrs. Q
Talking Mrs. Q's Deluxe Bagger
Here are a couple of pictures of my wife's 2009 Softail Deluxe. We bought the bike April of 2011. It was basically unmolested. She initially wanted a Road King, but after a couple of rides found that wasn't for her. The Softail Deluxe fit perfect. To give her her Road King conveniences I added a Cycle Visions Bagger Tail, Road King Classic Bags and Freedom Performance Racing True Duals. To add a little style we added Willie G. skull collection stuff. She rides her bike to work (school teacher) every chance she gets. The middle school kids think it's so cool their lady teacher rides a Harley.
The Q
Talking Q's 2008 FLHX
Here are a couple of pictures of my 2008 FLHX Street Glide. Bought this after riding a 2004 Sportster I spent a ton of money on. Mods include 18" front wheel, Fuel Moto PC-V and open element air cleaner, Bub 7 True Duals, Willie G and Dark Custom collection stuff along with Hawg Wired amp, Cycle Visions Ricco Bag Lights and much, much more.
The Kraken
Yr: 2006
Model: Heritage Softail Classic
Engine Size: 88.00 cubic inches
Trans: 5sp
Pipes: Samson True Duals with Tailgunners - (made to mimic the Gatling Gun on a A-10 Warthog ) yes they do spin......
Seat: Stock
Wheels: Stock
Accessories: - Custom Shift Lever (Own Design - Made by Navartech Machining ) " Raiders Shield with Skull and crossed Swords "
- LED Accents lighting
- Chrome Raiders Horn cover with emblem
- Chromed Air Filter Cover with " US Air Force emblem "
- All Pedals are " Willie G. Skull " except for passenger which is a Kuryakyn type for wife.
- Black Leather Handle Bar Grips in a cross pattern design
- Rear Directional Dagmar Lights
- Kuryakyn Clock and Temperature gauge on Handle bars
- Two phase mirrors
- Custom Chromed tail pipe bracket for the Gunners
Story: Always wanted a Harley since I was very young, but life got in the way, so after all the kids where gone from the house I decided I was going to either buy a Boat for Diving in the Channel Islands and or buy a Harley. Have not regretted that decision since.
In fact wife urged me to get it so in 2005 me and my nephew picked up our Harleys from Glendale Harley in Califa's. They provided the best deal on two bikes and even delivered them 60 miles away to Oxnard.
Coming from living in farm labor camps of the Ventura County area as a young man all I could ever do was watch the Harley riders rumble down the road from the fields, I decided then that one day I would make my dream come true.........
Lucky I was 50 when I did get one, knowing myself as a young man I would have killed myself at a younger age....
Now I just cruise........................... when ever I can..
Well thats my story and I'm sticking with it!!
Thanks for the opportunity for this entry!!
Yours in Harleymania
The Kraken!!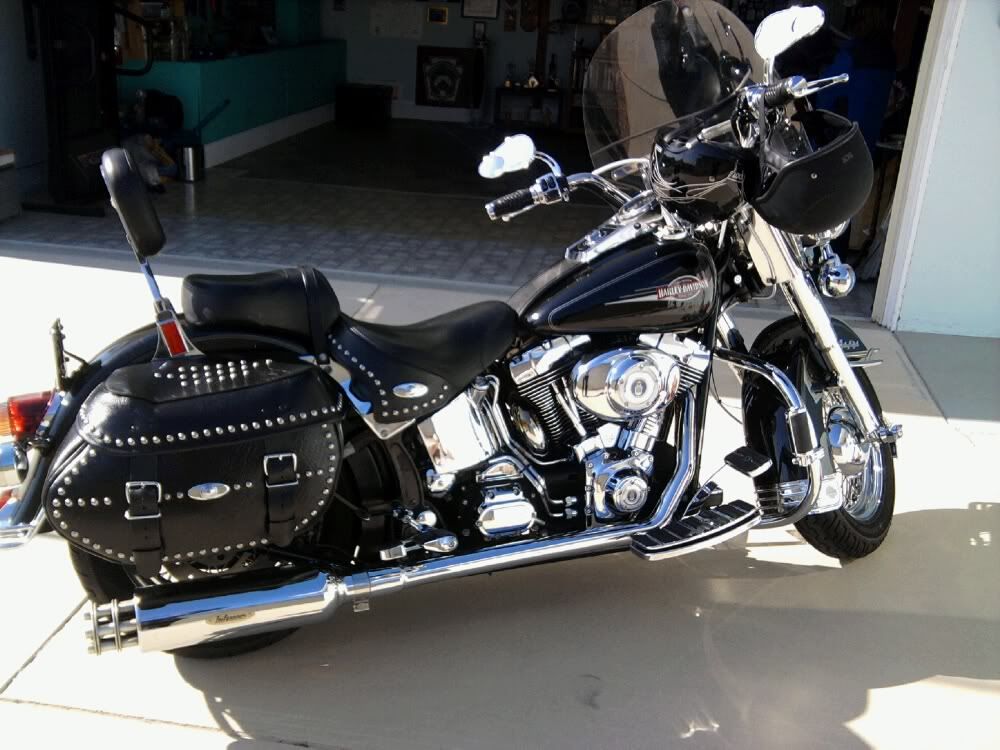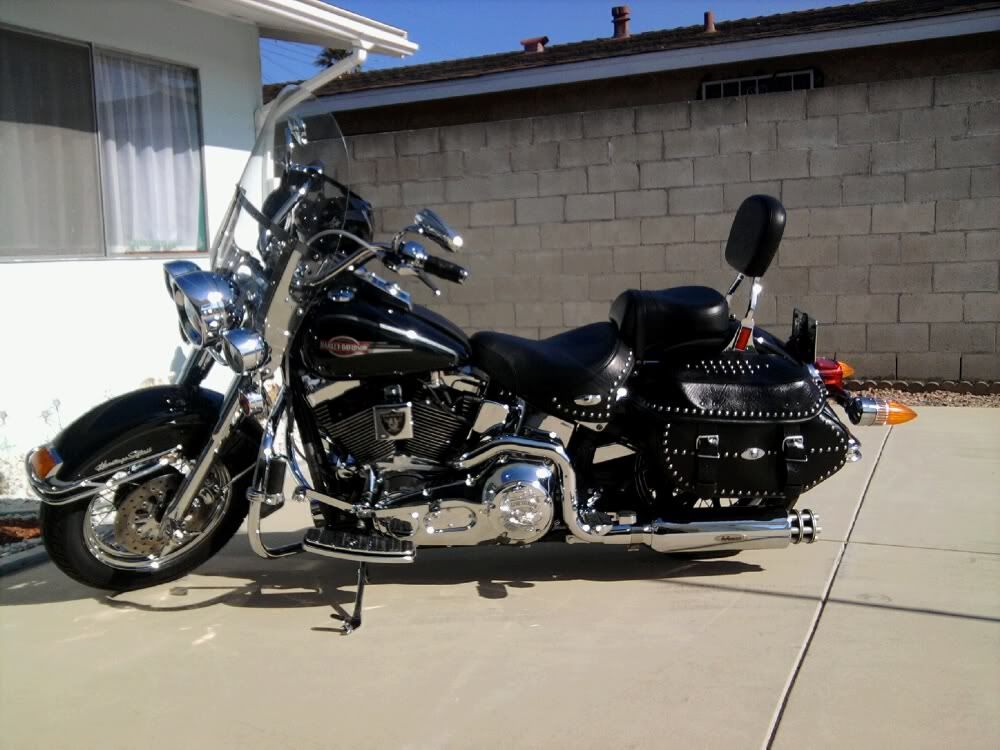 goggles
My harley 1200 sportster low project finished.
So I am new to the site.As I have completed my sporty and it is now ready to ride the streets!
Some parts are :
DNA SPRINGER FRONT END
FORMED SEAT
SLIPON EXHAUST
CHROME SISSY BAR
OLD SCHOOL FIBERGLASS REAR FENDER
12" apes
1200 custom stock riser
60 spoke front chrome rim
And allot more!
louieb
My name is louie,here are a couple of picures of my 06 flh
Motor is stock,lots of chrome,paint is fire burning $100.00 bills on saddle bag covers and fairing. A couple of nitrous bottles hanging from the front of frame that purge through the center windshield bolt.All show no go.
digga25
2009 serg
2009 cvo roadglide,110 ci engine with feuling 574 cams, race oil pump,timken bearings,6 sp trans,V&H head pipes,stock mufflers with 2" fullsac baffles,Mustang custom seat with snake inserts,stock wheels, windvest 12" shield, Rev Perf EMS, Kromeworks sweepers +2 bars.Kuryakin lic plate bracket.
Bought the bike in 09 and the mods never stop,Its a sickness,give me another pill.
rickkcir
My '11 RGX that I've customized further....
103 ci, Stage 2, extended bags, Custom Lids, updated Stereo, new wheels / tires ( 200 on the rear), etc
mtnLeo
Well, I am getting close! It's riding now. Deer took me out 3 months ago. An insurance check and some hours in the shop with friends and family has gotten me this far.
'04 Fat Boy - power and drive is all still stock TC 88 - 5 speed - I added an RB Racing Pro Stock exhaust and Stage I A/C.
Most notable cosmetics are: H-D custom shop paint from '03 - Gloss black powder coated smoothed fender struts finished by Rick Doss in Danville VA - Accutronix 3" extended foot controls - Wild One 1.5" drag bars - H-D chrome dash - H-D Thunderstar wheels, pulley and rotors - C&C seat - blah, blah, blah...
OK, there we have it for February 2012. There are a lot of great entries to choose from, please be sure to vote for your choice of these fine rides. My thanks to all who entered, as always without you there is no contest without your entries.