Truth is.... she's a REAL beotch!

Rides like a hard tail, stiff an' hard, twitchy as hell on the throttle, cam doesn't like "puzzy" footin' around, surges at steady throttle.... but holy sheeet!! crack it open?? mirrors vibrate out of focus. smooths out up around 5000 or so and all hell breaks loose!! Shift light is still set low at 6000, til she gets more miles for a real tune. She gets better traction than before but still wiggles the azz end pretty hard on the power shifts and then straightens out on the acceleration. Tachs up amazingly quick pulling through the power band on the first 4 gears. It is an adrenaline rush to feel the power of that motor on a 586 lb bike with better traction. Glad Otto & I built it.
__________________
Custom build a.k.a. "Set On Kill"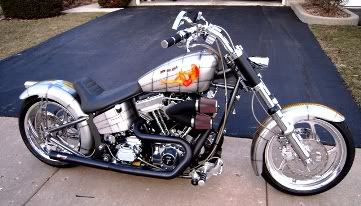 ---
Last edited by Totenkopf; 03-16-2011 at

08:52 PM

.